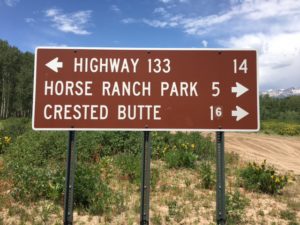 Whole lotta, whole lotta going on yesterday.
Today: new town, new adventure.  Eased into the morning with a skillet breakfast at McGill's – "the" place for a.m. grub in Crested Butte. Diner breakfast in the high mountains. PERFECT day start.  Highly recommended 🙂
Walking tour of downtown:  Town Hall, the Trading Post, historic Rock School Building (circa 1883, now houses the community library) – AND a museum.  FAAAANNNTASTIC!
[History nerd alert]  When the railroad extended from Gunnison, modern-day Crested Butte was born – a vital link for 3 neighboring boom towns (all since deserted), providing supplies/necessities, transporting silver back to Denver.  Early 1900's living, mighty tough at 10,000ft.  "Nine months winter and three months company."  Another fave: "This is God's country but He doesn't live here in winter."  LOL>
Read 'bout Colorado's largest mine disaster, Jokerville mine.  Gas explosion killed 60 miners, the site never reopened.  Read 'bout the town's transformation into a ski destination.  Had the place to myself – the ONLY tourist this day.  NO regrets!
High noon: started the 3 ½ hour drive to Aspen.  Yep, original plan was to hike over the Pass, spend the night in Crested Butte, then return hike the following day.  Sooooo my hotel reservation tonite was back in Snowmass Village.
Not ideal folks, but only serving lemonade today, no more lemons 🙂
Scenic dirt-road tour of Gunnison Nat'l Forest, over Kebler Pass, thru the Grandfather Aspen – NEVER seen so many Colorado Aspen.  WOW!
Stopped at the reservoir spillway in Paonia State Park.
Visited Redstone's historic 'beehive' coke ovens.  Built in the 1890's to carbonize or "coke" coal mined nearby, product was later loaded onto rail cars.  Laugh if you will but MIGHTY interesting stuff – unlike the museum earlier, was not the only car to stop.  LOL>
Rolled into Aspen late afternoon. Window-shopped, toured downtown, watched kids play in the town fountain.  Fancy trout dinner (local catch).  YUM!
Back home tomorrow, Independence Day cookout on Ash's grill – but not before an hour solitude/a walk-about in John Denver Sanctuary.  LOVE LOVE my Colorado life ❤
He climbed cathedral mountains, he saw silver clouds below

He saw everything as far as you can see

And they say that he got crazy once and he tried to touch the sun

And he lost a friend but kept his memory

Now he walks in quiet solitude the forest and the streams

Seeking grace in every step he takes

His sight has turned inside himself to try and understand

The serenity of a clear blue mountain lake

And the Colorado rocky mountain high

I've seen it raining fire in the sky

You can talk to God and listen to the casual reply

Rocky mountain high (Colorado)
One Response to Rocky Mountain High