Three weeks since my last marathon.  Training's been hit or miss 'round Ash's Colorado wedding & dog-sitting the grandpup.  BUT the body's feeling good again, generally I run a bit banged up.  Might run with young guns but marathon recoup takes a day or 2 longer 🙁
Saturday bib pick-up in Golden.  Quick turnaround & back on the road.  Heading north for the day — gettin' my mountain on, a pre-marathon trek in Red Feather Lakes.  Lil' quiet time, inner peace at the Buddhist Shambhala.
But first…lunch stop at The Forks.  BIG American flag, half-hour outside Wyoming – this is Cowboy country.  Not a lotta non-beef options on the menu, app-started with Rocky Mountain Oysters.  (Google it 🙂 )  When in Cowboy country, do as the locals.
Early start Sunday – 2:30am alarm, on the road by 3.  Hour drive to Morrison.  Caught one of the last marathon buses at 4:15am.  No Start Line drop-off/parking allowed, road closed to traffic.  Elevation: 11,004ft.  My highest marathon start point.
90 degrees the day before.  Surrounded by snow remnants this morning.  Expecting temps to heat up near the Finish – going out fast today, wouldn't feel the sun 'til 3 hours in.  Met up with marathoner pal Stacy.  She's an Ambassador for REVEL.  Would be riding in the SAG wagon today (a sweeper), encouraging runners to complete today's 26.2 miles before the 6 ½ time cutoff.
The use of broom wagons has expanded to other sports events—especially in marathon events a broom wagon is a common feature. In marathons many amateur runners join in, and sometimes are not able to reach the finish line within the allocated time. The broom wagon puts an end to their race, and the runners have to hand in their numbers.
Beauty of knowing Stacy & her being an Ambassador – the pre-race email.  Better prep than ANYTHING you'll find online.
MILE 1HM or 13FM – the three sisters – the 3 hills of the course

If you are running the half marathon, you are going to have a massive hill at the very beginning.  If you're running the full marathon, this hill is mile 11.5 ish (you'll be cruzing downhill with a large meadow to your right, you'll see an intersection ahead and you'll have to cross and turn right…. just ahead is where these hills start).  It's actually a series of 3 hills.  Steep up, fast down, x3.  PLAN AHEAD.  Many runners choose to speed walk these sections to save energy or handle their hydration and fuel for a few minutes.  Other runners choose to run through these but FYI – after so much downhill, your quads are going to argue.  Whatever you decide, just be aware these hills will be waiting for you.

MILE 4-13HM or 17-26FM – rollers

The last 9 miles of the course is overall downhill, but there are a few rollers of slight inclines.  By this point of a race I like to think of my legs like gears on a bicycle – rotate the muscles (use calves, then hams, then quads) to keep things relaxed.  While training, practice changing your stride (length) as well as cadence (how frequent you rotate).  Adjusting your landing with the downhill grades allows you to manage your flight, rather than using your quads to brake your body.  Every person may run and experience this 'flight control' differently – but it's definitely something to play with and consider.

TANGENTS– ride those curves like a motorcycle

This course has many many many curves in the road.  Managing your direction of travel can save you a LOT of distance compared to people who run the road in the same 'lane of travel'.  If you are not familiar with running tangents, google and study – you have a GREAT potential on this course to be very efficient.

If anyone is interested in gathering at my house for dinner Saturday evening, please let me know.  We cook up a bunch of pasta, garlic breadsticks, salad, and my husband's homemade meatballs.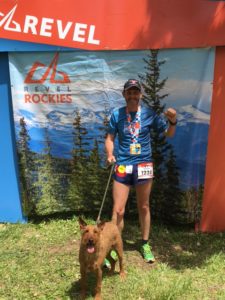 DOWN DOWN DOWN, first 5 miles.  Stayed two-bodies ahead of the 3:45 pacer.  LOVED the morning chill, smell of Ponderosa pine.  Absolutely BEAUTIFUL run.  No negatives.
Couple thousand running today's marathon.  Well ahead of pace, first half.  Stopped shadowing the 3:45ers at mile 17.  Haven't finished under 4 hours since March 2015.  Never ever sub4'd in Colorado. April's 'Runs with Scissors' finish – 4:01 – is the closest I've come.
Last hour: peeled my shirt, water soaked at each Station.  Even at altitude, it's summer in Colorado.
My chance to PR slipped by at mile 23.  Throwing 10 min/miles now – pushed too fast, too early, too long.  BUT had I banked enough time to sub-4?  On the return to Morrison, knew I was still close.  Kept pushing.  Felt really warm.  Passed a group of walkers finishing the Half.  Tenth-mile to go.
Saw the ticker – SUCCESS!  Not a new PR (yet) – but my first sub-4 in 2 years, first in Colorado, my first after cancer.  AND my first & only with pup Ro at the Finish!  FAAANNNTASTIC!
Dehydrated, blood pressure low (90 over 40).  Summer hydration, my 4-year marathon nemesis.  Spent an hour in the med tent.  Nice folks let me bring Ro inside (out of the heat), during my IV drip.
Today I ran sub-4.  On the path, a new PR is gonna happen in 2017.
Revel ROCKIES

K r Haga – June 11, 2017

Bib #   1238

Event  Marathon

Chip Time    3:58:25.66

First Quarter            6.55     55:23.71          8:27

Second Quarter       6.55     54:26.36         8:18

Third Quarter          6.55     1:02:25.85      9:31

One Mile To Go       5.55     55:44.23         10:02

Finish                        1.0      10:25.50         10:25