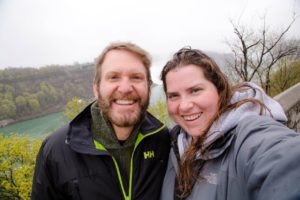 12:30am arrival – even the best of friends say 'take an Uber' after midnight.  My Canadian bestie?  Short cat nap, greeted me just past Customs…then hit the highway.  HUGE surprise.  Middle-of-the-night trek to Niagara Falls.  Hotel slept, woke directly across from North America's greatest free falling water.  Chilly a.m. mist but whatta morning run!
GREAT to wake in Canada!  Purchased 2 tickets on Hornblower Cruises.  Would be seeing the Falls up close & personal.  Donned my plastic 'Hornblower pink' rain jacket & boarded the boat (America's competing 'Maid of the Mist' provide jackets o' blue).
Niagara Falls is actually comprised of three waterfalls: American, Bridal Veil and Horseshoe Falls.  The first 2 lie in the U.S., the latter straddles both U.S. & Canada borders.  Elaborate walkways built on the American side provide 'a' view of the Falls.  Canada however, positioned directly across from the Falls, claims BEST view…by far.
Cruise first passed by American & Bridal Veil.  Lotta opportunity for selfies, water crashing over large boulders below.  Seagulls darted in & out of the Falls, diving into the water below fishing for dinner.  Provided some of the day's favourite shots.
When folks think of 'Niagara' Falls, it's Horseshoe Falls we've seen.  Powerful, thunderous water, tinted green of mineral-eroded limestone.  The force of falling water created a wide spray across the entire boat.  Whatta memory – SUPER FUN (& wet)!  One of the most wondrous, magical, 'take your breath away' places on Earth.  I was here, May 6th 2017.  Could not stop smiling ❤
Boat disembarked.  Slow-walked 2 miles down the boardwalk, past flowering Queen Victoria Park.  Watched fast moving water pour over Horseshoe Falls, self-surrounded by a swath of daffodils.  Hot chocolate at Tim Horton's.  a WOW kind of day!
Rode the QEW (Queen Elizabeth Way), over Burlington Skyway Bridge, then the 407 – to Sarah's flat in Brampton.  Impromptu pull-off to view an old grounded ship on Lake Ontario.  Unplanned excursions, highly recommended.  Many thanks Sarah, much LOVED!
The Grounded Ship was a replica of the Grand Hermie used by Jacques Cartier in 1535-1536 and 1541-1542 to explore Canada. This ship was built in 1967 for Expo 67 [in Montreal] as part of the nautical theme as Expo 67 which was on islands in the St. Lawrence Seaway.  The ship was taken to Quebec City and abandoned in 2001.
Marathon in early a.m. – but not before dining fancy in North America's tallest building, the CN Tower.  No regret, B-I-G life 🙂
Niagara Falls
2 Responses to Niagara Falls