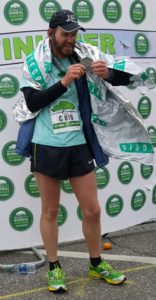 6:30am Start – up early, 5:30 shuttle last transport from my hotel.  One block from the Outdoor Memorial.  National Anthem, followed by 168 seconds of silence – respect for the lives lost in 1995.
Chilly start – gusty wind & light rain.  Running in shorts again…gotta check the weather app before I leave home.  LOL>  25,000 runners, corral start.  Lotta local crowd support, much appreciated.
Started tenth-mile behind the 4:15 pace group.  Hung close thru mile 2.  Chickasaw Bricktown Ballpark (home to OKC's Triple-A Dodgers).  Past two [Phillips 66] oil derricks, 500 feet outside the Oklahoma State Capitol.  Caught the 4 hour pacers at mile 5.  Halfers peeled off before 8.
Gorilla Hill, Nichols Hills, Rose Hill, Heritage Hills – not a flat course 🙂
2:01 first Half.  Couple minutes slower than last Saturday…on a more technical course – I'll take it.  Struggled the two miles 'round Lake Hefner.  High gusty winds.  Head lowered, pushed thru the day's weather obstacle.  Misty rain blew sideways.  4 hour pace group matched me, moved past me.
Tree cover at mile 16, more at 18.  Downhill stretch [thru mile 20] before a quad-burning 4 mile climb…topping out in OKC's scenic Heritage Hills.  Mighty late in the day for 4 miles of UP.
Run/walk combination last 2 miles.  Mental dip/endorphin drop but not a bad performance – maintained posture, felt good in my shoes.  Hilly run…third straight weekend marathoning – finished just over 4:15, an Oklahoma PR. 2nd fastest of 2017, 16th best of my 88.  128 consecutive run days – feelin' STRONG!
2017 Results – OKC Marathon

Haga, K R   LOUISVILLE  CO   4:17:20
6 hours to burn before my Colorado flight home.  Fried pickles at Toby Keith's (while in Oklahoma, gotta/hafta), feet up/giant Coke & a movie….then, 2 stops of interest: Oklahoma's Land Run Monument & a brief pull-over at the State Capitol.
More than 50,000 Americans lined up at noon on April 22nd 1889 for our country's last great Land Run.  Towns were formed, homesteads staked.  Ironically, monuments outside the state's Capitol Dome celebrate Oklahoma's Native American population (from whom the land was taken).  Cowboys, Indians & Oil.  American history is kinda messed up, huh?
Far North next weekend, adventuring with my Canadian bestie Sarah.  Marathoning of course but ALSO…Niagara Falls!
Oklahoma City Memorial Marathon