Ash nazg durbatulûk, ash nazg gimbatul,

Ash nazg thrakatulûk agh burzum-ishi krimpatul.

One ring to rule them all, one ring to find them,

One ring to bring them all and in the darkness bind them.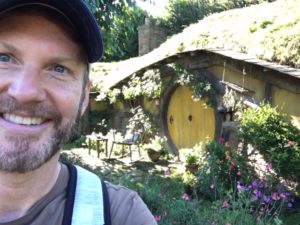 The Hobbit & Tolkien's Lord of the Rings were the second series of novels I read as an adolescent (2nd only after Little House).  Finished LOTR twice, read The Hobbit 3 times.  Foreign language, foreign lands – no surprise I left home right after high school, lived & worked in Russia, travelled much of the world.  Wanderlust.  Boy's a dreamer.
Novotel Hamilton Tainui: final stay in NZ, fancy digs.  Up early, last morning run – almost 4 miles on Hamilton's River Path…marathoning tomorrow, USA return same day.
Rural drive thru sheep country, destination: Hinuera, Matamata.   Rural drive thru Middle-Earth, destination: the Shire, Hobbiton.
Folks have attempted movie adaptations of J.R.R. Tolkien's The Hobbit for years.  Not until Peter Jackson, did a Director get it right.  Filmed in his Jackson's homeland, much of New Zealand naturally LOOKS like Tolkien's Middle-Earth.  From South Island's Mt. Cook & Remarkables (Southern Alps) mountain range to North Island's rolling green-grassy sheep farms.  Felt transported into one of my favourite childhood novels.
Generally, movie sets come down soon after filming ends.  Not here – whatta treat!  Queued near a rock carving of Gollum.  Boarded our tour bus, quick intro/history, clips from the movie – then, the SHIRE.
Hobbit Holes – not one but an entire town of thatched Middle-Earth dwellings.  Past the Garden, a frog pond, apple orchards – kept trekking UP, UP, UP.  Bilbo Baggins lived high on a hill in the Shire.  Retreating down Bagshot Row, paused at 'the Party Tree' [re: Bilbo's "eleventy-first" 111th birthday], past the Mill – before stopping at the Green Dragon Inn for a Southfarthing beverage (just a cider for me).  Couple minutes in the gift shop & my half-day had vanished.  WELL WORTH GOING!
Bib pick-up for tomorrow's run – then walked the afternoon thru the Hamilton Gardens.  21 gardens, called it after 13.  Last night in New Zealand – fancy dinner [at Chim Choo Ree] with my travel bestie, Dawn.  How does one say goodbye?