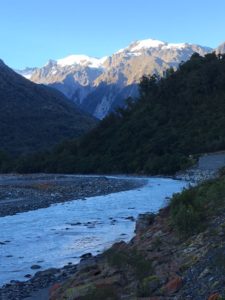 Alarm set, pre-dawn start.  Not just any morning run – Franz Josef Glacier.
Woke north of town, Alpine Glacier Motel off State Highway 6.  Half-mile trek to Glacier Access Road – [Catholic] Lady of the Alps on the left, [Anglican] St. James on the right.  Good omen 🙂
Quick left off Hwy 6, crossed the Waiho River via Bailey Bridge.  Bounced over the wooden pedestrian plank, alongside this one-lane country bridge, to a dirt access road.  4 miles to Franz Josef trailhead.
Westland Tai Poutini Nat'l Park.  Scary dark trail run thru giant ferns & tropical vegetation. [NOTE to self: BUY A FLASHLIGHT!]  Darkness soon gave way to pale-pink sunrise.  Trail-ran DOWN to a murky silt-choked river.  Rock hopped across, spun 'round & glacier gawked — Franz Josef straight ahead/high above.  Popped over boulders, trekked UP, UP, UP.  Snow-melt waterfalls littered the mountain's jagged rock walls.  UP, UP, UP.  Nearing the glacier base, read a Park placard detailing the death of multiple adventurists, following an earthquake initiated rock slide.  Ok, enough – but jeez, it's beautiful here.  When it's my time, let it happen quick…somewhere high in elevation, surrounded by snow (my humble Alpinist prayer ❤).
Waterfall-played on the return trek to town.  5 hour drive ahead, heading East now.  Tonite's destination: Queenstown, NZ's hippie-happy Boulder.  Ski town built on the shores of Lake Wakatipu.
Close 30 minutes from Franz Josef, River Walk hiked.  Bright morning sun poured over Fox Glacier (popular heli tours buzzed overhead). WOW, whatta view!  Lunched an hour later in Haast, before travelling a narrow rocky stretch – 'The Neck' – between lakes Wanaka & Hāwea.  Foothills of the surrounding Southern Alps mirrored off these glacier-fed waters.  Stunning.
Apartment dwelling 3-nights in Queenstown.  Tomorrow morning: touring Doubtful Sound – 2 buses, 2 boats.  But first, burger & a pint in Queenstown Gardens.  One week down, one week to go…vacations go so fast.
…meanwhile, far far away — the Colorado Marathon…me [Captain America] in the upper right promo ad 🙂
Franz Josef Glacier