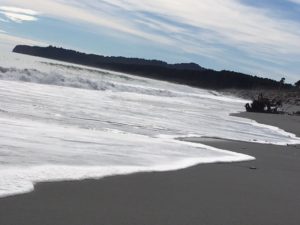 Up early but unfortunately, outta town late.  Morning run just got away from me – 10 miles.  One left when I should've turned right, long morning on Christchurch city streets.  Run highlights: EIGHT city parks, morning sunrise.  G'day New Zealand!
10am rental pickup (sorry Dawn).  2 hours west, couple days 'til our next cityscape.  First stop: Arthur's Pass National Park.  Easy short hike UP to Devils Punchbowl Waterfall.  Purchased 2 apples, hung a ½ hour near the railroad tracks.  Sunshiny day.
UP & over the Southern Alps (another 2 hours west), lunched in Hokitika.  Afternoon adventure: swinging bridge over Hokitika Gorge.  Travelling one-lane farm roads 30-35 minutes, ultimately located the Gorge.  Hiked a mile, mile-half thru a mix of deciduous & tropical vegetation.  Slender wooden bridge 'cross the mighty Hokitika, stunning turquoise blue below.  Not for the faint of heart.  Creaky swinging structure, 6-person weight limit…truly a hidden gem 🙂  WOW, WOW, WOW!
The Hokitika River is in the West Coast of the South Island of New Zealand. It is about 64 kilometers (40 mi) long, beginning in the Southern Alps, emerging from the narrow Hokitika Gorge after merging with the Whitcombe River, and flowing into the Tasman Sea just south of the town of Hokitika.
Hugged the Hokitika for 2 days, ending our river journey Friday.  Stopped briefly in Bruce Bay & touched the Tasman Sea.  Having travelled all the way to New Zealand's western coastline, over the next week would work our way east & up its Pacific shore.
But first…tomorrow morning: Franz Josef GLACIER
…meanwhile, far far away — sent flowers & a tier of cupcakes, 70 mini cakes in all.  Love ya Mom, Happy Happy Birthday!  ❤
Arthur's Pass
Hokitika Gorge swinging bridge
the Tasman Sea
2 Responses to Southern Alps to the Tasman Sea