The haka is a traditional war cry, dance, or challenge from the Māori people of New Zealand.  It is a posture dance performed by a group, with vigorous movements and stamping of the feet with rhythmically shouted accompaniment.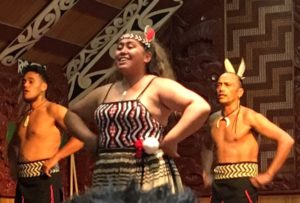 Ended day 2, bit rushed thru Te Puia & neighboring Whakarewarewa Thermal Valley.
Māori welcome, followed by a traditional Haka [cultural performance] in Te Puia's marae [meeting house].  While native Hawaiians & Māori share Polynesian roots, their dance traditions are super diverse.  The Haka is not your Momma's Hula – comprised of warrior chants & postures…was never invited from the audience to join in.  LOL>
The first Māori settled New Zealand 800 years ago, leaving their native Hawaiki on 7 long boats, Waka.  The seven major tribes of New Zealand are identified by their Waka name.
Toured Te Puia's woodcarving & weaving schools, then quietly stalked New Zealand's iconic (& endangered) Kiwi bird.  Nocturnal by nature, a tiny female inside Te Puia's Kiwi House would be my only Kiwi claim this trip.  Unfortunately, no pics allowed.
Remainder of the tour would be spent geyser-gazing…my third continent of geysers.  Iceland, USA's Yellowstone & today, New Zealand's Pōhutu geyser – biggest geyser in the southern hemisphere.  Mud pools, vapour jets soaring 30 meters high – AND of course, that distinct sulfur scent.  FAAANNNTASTIC!
Māori culture & geysers – coupled with tomorrow's bike tour, a top 5 MUST DO New Zealand experience.
Māori Haka
Pōhutu geyser