…ask not what your country can do for you, ask what you can do for your country — John F. Kennedy
$98 roundtrip — airfare WOW price — so late-registered for a third February marathon…the Cowtown Marathon in Fort Worth.  930am Saturday morning, touchdown: Dallas.  My first landing at Love Field, same airport President Kennedy used in November 1963.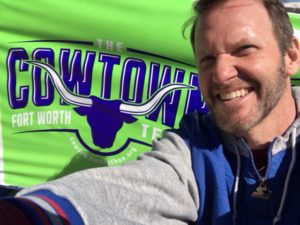 Ya'll know I'm a HUGE history fan – first stop: the Sixth Floor Museum at Dealey Plaza.  Housed in the former Texas School Book Depository, museum retells the events surrounding JFK's assassination.  Waited 40 minutes for ticket admittance – who knew so many people [on a Saturday morning] would be museum trekking?
Self-guided tour lasts 'bout an hour half – I finished in under 30.  Placard-to-placard trail, 'til each tourist receives their moment at 'the Corner Window' – spot where Lee Harvey Oswald fatally head-shot the President as his motorcade turned onto Elm Street.  Honestly, found the entire experience creepy, sad, voyeuristic.  Upon leaving the building, walked thru Dealey Plaza & past 'the Grassy Knoll' where it's believed another conspirator fired but missed the President.  Again, not my thing.  Live & learn.
50 minutes away, arrived in Fort Worth for marathon bib pick-up/hotel check-in.
Sunshine, breezy & 60 — BEAUTIFUL — lucky me, half day remaining.  Short 2 mile run along the Clear Fork Trinity River ('cause every day's a run day), pre-race dinner at Hoffbrau Steaks (ate RED MEAT like a native) PLUS time for haircut (clipper close-shave).
Early to bed, early to rise – 'cause tomorrow I'm running Cowtown 🙂
November 22, 1963