Margaret "Maggie" Brown (July 18, 1867 – October 26, 1932) (posthumously known as "The Unsinkable Molly Brown") was an American socialite and philanthropist.  She is best remembered for exhorting the crew in Lifeboat No. 6 to return to the debris field of the 1912 sinking of RMS Titanic to look for survivors.  During her lifetime, her friends called her "Maggie", but after her death, a 1960 Broadway musical based on her life and its 1964 film adaptation were each entitled The Unsinkable Molly Brown.
Marathon Sunday in Pueblo…time to pull out the folder.  AAA articles, newspaper clippings, emails/FB posts from friends, pages ripped from airline magazines – all activities/places which spark interest & light my heart.  Doesn't everyone have a folder?  🙂
First Colorado marathon of the year so…decided to celebrate a famous Coloradan – the Unsinkable Molly Brown.  Saw the 1964 movie (starring Debbie Reynolds) on Netflix.  Over-the-top energy, hillbilly drama.  Set in Leadville, the Browns would move to Denver (after a successful mining claim) & try to join the social elite…sorta like a movie version of "The Beverly Hillbillies".  Of course, there's no place for Molly at anyone's table (despite her wealth).  Freak circumstance puts her on the Titanic – and she becomes a national celebrity.
Kicked off 'Molly Brown Day', the night before in nearby Longmont.  Purchased dinner theatre tickets for a local adaptation of the Broadway play.  Reality: all 'Dinner Theatre' is not created equal.   Tonite's performance was light on talent & the hall struggled with food service.  Show started 45 minutes late –  but overall, a FUN experience.  Something new to do on a Friday night.  Check, done.  No regrets.
Saturday morning:  short 2-mile run, packed an overnight bag, quick shower.  Dropped Ro at the kennel, next stop: Denver – specifically, 1340 Pennsylvania Street…the actual Molly Brown House.  History nerd alert – LOVE LOVED it.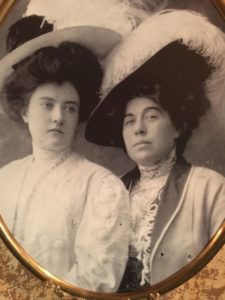 Movie: 'Molly' Brown
Reality: Margaret, Maggie — but never, Molly
Movie: illiterate mining girl
Reality: high school-equivalent education, well-educated vs her [female] peers
Play & movie were based off articles published in the Denver Post, written by socialites who disliked Molly because the Browns represented 'new money'.  Most of Denver's elite wanted to be accepted in East Coast social circles so went to great lengths to distance themselves from 'new money' (their parents' generation).  Colorado only achieved in statehood in 1876.
Turn of the century wallpaper, stained glass, kerosene lights, Victorian furniture, bear rugs & animal mountings (inspired by President Teddy Roosevelt)…like walking back in time.
Post-Titanic 'Molly' Brown fought for women's suffrage.  Colorado became the first U.S. state to provide the vote (Wyoming, technically 'the first', was a territory).  Mrs. Brown ran for US Senate twice.  She purchased land to create the City's first parks & fought for worker's rights – an issue which ended her marriage (technically though, they never divorced).
Really really interesting day.  If ever in Denver, take the hour-long house tour ($11).   Highly recommended.
New York Deli News for lunch (well-known Jewish deli, another 'first' experience), followed by my first Colorado visit to IKEA.  Haven't seen dollar hot dogs & cinnamon buns since leaving Connecticut.  LOL>
Sometimes the best vacation is in your own backyard.  LOVE LOVE my Colorado life!