Imagine yourself doing something BIG this year.  Imagine making a New Year's Resolution that lasts all year long…it might sound difficult at first, but believe us when we say, "ANYBODY CAN DO IT!"

Run the Year Motto:  EVERY day's a run day, 2017 miles in 2017
January 2017 update: the miles don't lie – AWESOME start to 2017.  Completed my 2016 goal on the 10th – contributing 76 shorted miles to last year's tally…THEN, banged out an additional 150+ miles toward the New Year.  2 January marathons & 39 consecutive run days (started my run challenge Christmas Eve) – couldn't be more pumped, no better news.
Well…unless one's told your body's CANCER FREE – yep, THAT happened in January too.
Running at least one mile EVERY day of 2017 – 10 minutes a day…who doesn't have 10 minutes a day – to enhance/enjoy/improve/embrace LIFE!
Haven't missed a month marathoning since December 2013 – Marathon #100 Goal: Oct 29th in IRELAND!
AND a new PR (personal record) – haven't sub-4'd since March 2015…it's time
2 month focus (January & February): CONSISTENCY
Like any change, the first 2 weeks is always the hardest.  This year's goal – 365 run days – leaves no room for mediocrity.
Race ReCap: two marathons: kicked off 2017 [New Year's Day] in Spring Hill FL running aside a local toll road (but had 2 amazing morning runs in Clearwater 🙂 ); then ran 26.2 two weeks later on Robins AFB, just outside of Macon GA.
Streaks: 39 consecutive run days, 38th consecutive month marathoning
Mileage ReCap:  200+ mile month (76 added to last year's tally), ended January at 153 miles (just 15 short of goal)
Happy New Year, 2017ers!

All of us at Run The Edge want to welcome you, officially, to the start of the Run The Year 2017 Challenge! Are you ready to dominate 2017? This year is going to be full of inspiration, motivation, progress, and miles. Are you ready?

We know that this first week will be full of energy and excitement. If you are in the Facebook group, please help each other with questions and help newcomers feel welcome! We're relying on everyone to stay positive, patient, and keep the spirit of community alive and well!

We don't expect any hiccups or issues with the mileage tracker, but it is NEW and will be experiencing a lot of traffic in the first few days! Please know that if we find any glitches or have any issues, we will work hard to get them resolved in the coming days.

Lastly, we would like to encourage you to make these two New Year's Resolutions as you begin this challenge:

One: Work hard and consistently to reach your goals

Two: Encourage and support others to reach theirs

This challenge is personal. It is not a race against others but an opportunity to achieve your own goals whatever they may be. We have people of all ages, abilities, colors, sizes, and ethnicities, sharing this journey and each of us comes to this challenge with our own unique set of circumstances. If you follow the two resolutions above you are almost certain to have a wonderful year.

From all of us at Run The Edge, we are so grateful for your support and belief in us. We will work hard for you all year long to make sure Run The Year 2017 is a great experience!

Happy New Year and let's crush some miles in 2017!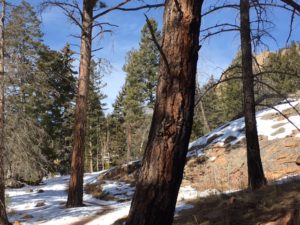 Finding balance in 2017 = 2 weekends/month NOT marathoning
After receiving the best possible news ever (NO cancer), unexpectedly suffered a mental letdown.  Not sure — is this normal after being hyper-focused 'bout one's physical health for so many months?  Strange, but true.
Dog-sat my grandpup (while Ash & Tom horseback'd in snowy Estes), binge-watched a bunch of documentaries on Netflix – plus logged a lotta miles ['cause every day's a run day]. Lotta miles = happy endorphins, soooo [luckily]…Sunday afternoon, dark cloud passed & found myself refocused on the future.  BIG potential trip planned — details later 🙂
Sunday next: snow hiking in Colorado's newest State Park, Staunton State Park in Conifer (established 2013).  Hadn't pre-planned a new hike since my 52-week hike year, when every weekend was a new hike.  Researched whether trails were 'dog friendly', retrieved trailhead GPS coordinates & backpacked snacks/water for two.
day plan: altitude, thin air, mental reset/fixin' the head
8300ft base, Ponderosa pine, montane meadows, easy up-n-down trail.  Missed the trail split to the Old Mill Site soooo [unfortunately]…hiked an extra mile-half on Border Line trail, return hiked on Scout Line trail.
The trail leading to the old mill site is one of the more challenging hikes in Staunton State Park.  The final .9 miles of this trail is hiker-only, a peaceful segment apart from busier multi-use areas.  The hike features multiple historic properties, including cabins, an old bunkhouse and remnants of a sawmill.
My take: steep climb in SNOW — no switchbacks & almost a full mile UP.  Gradual climb, not a 14er, but still an elevation gain of 782ft. YES!  Hike reward: avocado/sprouts sandwich, large flat rock aside a 1930's bunkhouse.  Sunshine & snow, nothing better.
Next weekend, marathoning – winter destination: Michigan
Bro Fest – Jan 2017
"That which does not kill us makes us stronger." – Friedrich Nietzsche
Finished marathoning all 50 States May 1st — HUGE life goal complete, on top of the world…what could go wrong?
unexplained puking late May, an official cancer diagnosis in July, last chemo treatment December 22nd – it's been a long unexpected road. Month of December was probably the worst: 3 chemo treatments, lotta hair loss AND the holidays.  breathe: This too shall pass.
Endoscopy on January 10th.  Same doc who did my first, first doc I dropped from my Team.  "I'm trying to expand your life span": most poorly timed words heard on Day 1.  Been told [by 2 different doctors], he's one of the best [so never burn bridges].  Long day of fasting, afternoon procedure.  Blood work detected nothing (but didn't last July either).
"It looks really good."  4 biopsies, waited a week for results.  No spots.
Tammy · Best bday present.  My brother's biopsy was today.  Preliminary results came back clean.  Cancer not there.  Fingers crossed it stays that way.  #wecelebrating
Not officially 'cancer-free' for 5 years…but in complete remission.  No spots – all gone.
Complete remission means that tests, physical exams, and scans show that all signs of your cancer are gone.
2016 Summer/Fall/Winter: Dropped off social media, kept my cancer diagnosis private – my journey, my choice.
Short list of folks to thank:
my Sis, friends Stephen & Dawn: thanks for letting me say out loud what was crowding my head, for letting me talk without providing advice in return, for being there on really down days/when it really mattered
this year's bride-to-be, Ash: thanks for being there if ever needed, available any time, any day — just 'cause I didn't take advantage of the offer often, doesn't mean I didn't know you were there
Mom: 2 texts a day, card EVERY week in my mailbox — if I didn't say thanks every time, know your cards were much appreciated
my Bro: for texting ridiculous, often hideous pics from my childhood past — laughter from the soul Bro, many thanks
running pal Carolyn: thanks for making me feel 'normal' during an abnormal time of life — a text every morning, asking me how far did I run each day/holding me accountable, no excuse for cancer — thanks friend.
Jim, Paul & Terri (my employer) — thanks for keeping my personal matters private; not judging when I gravitated from prayer/diet to immunology treatment & later chemo; trusting/granting time to say 'when & if I could no longer do my job'.  Never felt pressured ❤️
friends Sarah & Larry, fellow marathoner Stacy, surrogate 'step-Mom' Donna, cousins Denise, Regina & Chuck – thanks for your prayers; it's not what you said, 'hi & I'm thinking of you' was plenty 🙂
I am mentally & physically strong.  Thankfully, I'm a marathoner.  I allow myself good days & bad days.  My Christian faith is HUGE.  100% all in — marathon distance not a 5K sprint.