Summertime, summertime, sum sum summertime…
That time of year we afternoon in Coors Field & cheer our local Rockies.  First year watching the Braves.  Crushed 'em the night before 17-2, so expecting only good things.  Something new?  A winning record.  Rockies have been last or next-to-last EVERY year I've lived in Colorado.  Proudly (despite that dismal stat), boast a 4-2 personal attendance record 🙂
Game Day 2017 – Ash & Tom: Coors Light, Coors Field.  Me/family chauffeur: SmartWater & nachos.
Top of the 6th, Happy Birthday Jim scrolled the Big Board [PS Audio's 'El Presidente'].  Not that I'm über competitive but – daytime skies will darken on MY day, Monday.  HA!  (August 21st: the Great American Eclipse)
Seventh-inning stretch.  Said our goodbyes & stretched back home.  Homies got clobbered!
Aw well, there's always next summer.
2017 – Braves 10, Rockies 4
2016 – Devil Rays 11, Rockies 3
2015 – Rockies 6, Diamondbacks 4
2014 (Jul) – Rockies 6, Padres 3
2014 (May) – Rockies 10, Mets 3
2013 – Rockies 10, Padres 9 (bottom of 9th homer)
2012 – A's 8, Rockies 2
Nolan Arenado leaves with injury, Rockies get blown out by Braves 10-4

Other than that, the Rockies had a great afternoon.

by Hayden Kane@hwkane  Aug 17, 2017, 5:03pm MDT

The Colorado Rockies ended an up-and-down series with the Atlanta Braves on a decidedly sour note Thursday afternoon. Nolan Arenado left the game early with an apparent re-injury to his left hand, and the pitching fell apart as Atlanta won by a final score of 10-4.

Pitching lapses in two innings cost the Rockies dearly in this one. Starter Jeff Hoffman surrendered back-to-back home runs to Ender Inciarte and Freddie Freeman in the top of the 5th inning. That broke a tie and made the score 4-2. Things were still in reach at that point, but things really fell apart in the 7th inning.

Mike Dunn, who has been a good reliever lately, regressed back to being a bad reliever on this day. The inconsistent lefty allowed three runs and recorded just one out. He handed things to Adam Ottavino, and unfortunately he did not fare any better, allowing three runs of his own.

That made for six runs total in the frame, turning this game lopsided and erasing the good vibes of the blowout in the other direction just one day earlier.
Shakespeare & classic 70's tunes – the connection?  Enjoyed both OUTDOORS this week in Boulder County.
Colorado Shakespeare Festival (Boulder) –  "Half-moon outdoor arena, center aisle seat, Flatirons sunset, temps in the low 70's – yep, pretty much PERFECT."  Stole the line from 2015; saw Othello that summer.
Fast forward 2 years: 2017, the Festival's 60th Season.
Hamlet, Julius Caesar – nope, threw my money at Henry VI Part III.  Absolutely no idea what to expect.  Yep, completely on purpose.
Different kind of performance.  Similar to Shakespeare's time, actors were given just 20 hours to learn their lines.  Introduce Hadley [Kamminga-Peck], Dramaturg & Prompter.  Kinda fun to see actors miss lines, turn to the lady seated off-stage & request dialogue.
What else was unique?  Audience members were provided red or white flags (Lancaster or York) – & encouraged to root for their 'House'.  "Take off his head" I screamed.  20 minutes later, booed/hissed when a member of my House, Clifford, was slain.
Typical Shakespeare – inconvenient marriages, 2 families vie for King, whole lotta slaughter.  Unfortunately, nite didn't end well for Team Red.
Tonite's STAR – Queen Margaret, House of Lancaster.  Wore a sword, led an army. The crowd cheered 'Henry', I bellowed: MARGARET!!
NOT the Shakespeare of my youth.  Far exceeded all expectations – FAANNN-frickin-TASTIC!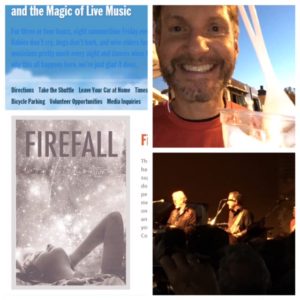 [2014] Kicked off the weekend at Louisville Street Faire listening to live outdoor music, filling up on pizza & ice cream…
[2015] Bowling, "Toy Story" Uno (family game night), Louisville Street Faire – and blink…it's time for all to go home…
Street Faire (Louisville) –  All summer, every Friday night on Front Street (just off Main).  Food, booze, crafts & LIVE music.  Not sure what excuse I was floating last year – but 2017, happy to be back in the WIN column.  Loser streak over.
Louisville residents skew mighty GRAY.  Tonite's band: Firefall.  Honest, had to Google-search but strangely remember their late '70's-era hits.  [thanks Mom 🙂 ]
Super FUN nite – LOVE LOVE my Colorado home ❤
Firefall is a rock band that formed in Boulder, Colorado in 1974.  The band's biggest hit single, "You Are the Woman", peaked at No. 9 on the Billboard charts in 1976.  Other hits included "Just Remember I Love You" (#11 in 1977), "Strange Way" (#11 in 1978), "Cinderella" (#34 in 1977), "Headed for a Fall" (#35 in 1980), and "Staying with It" (#37 in 1981) with female vocalist Lisa Nemzo.
Street Faire 2017
Yesterday in the high Sierras, today on scenic Lake Tahoe.
Sunrise woke in South Lake Tahoe, circled the lake northward – day's first stop:  Emerald Bay.  Mix of tall redwood & pine – HUGE evergreen – line California's largest freshwater lake.  Bay tinted green (emerald green) where it hugs shore.
$10 to the Park Ranger.  Successfully secured parking (kinda a big deal in California).  Stared long/hard at the Lake horizon, before starting the short steep hike DOWN to Vikingsholm on tourist-heavy Tahoe – HIKE day ❤
Vikingsholm…this magnificent "castle" is a unique blend of nature's spectacular beauty and man's architectural ingenuity.

The Vikingsholm foundation was laid in 1928, but the building was constructed in 1929 by 200 workers. Vikingsholm was built by Mrs. Lora Josephine Knight as a summer home. Before starting construction, Mrs. Knight and her architect traveled to Scandinavia to gather ideas for the construction of the house. Some parts of the structure contain no nails or spikes, as a result of old-fashioned construction methods. Most of the building was made from materials found at Lake Tahoe.

Mrs. Knight is best known for building Vikingsholm, but she and her husband Harry, a businessman were primary backers of Charles Lindbergh's non-stop solo flight across the Atlantic in 1927.
Followed the steep one-mile path DOWN DOWN DOWN to Vikingsholm.
White granite canyons, HUGE forest'd trees.  Snagged 2 enormous pine cone for my Colorado mantel.
Interesting well-preserved residence, Vikingsholm, but didn't purchased a ticket to tour inside.  I trail-hiked DOWN to see California redwood, to enjoy the all-consuming scent of pine.  Not disappointed, WOW!
Dipped both hands into Lake Tahoe before trekking back UP.  UP UP to Hwy 89, the local northbound highway I'd travel lake-circumference.  Tahoma, Tahoe City, then lunch.  3 more hours to play 'til my return flight home from Reno.
89 North to Truckee, diverted left on Squaw Valley Road.
Squaw Valley, California – site of the 1960 Winter Olympics.  Gotta/hafta/must STOP, right?  Team USA won first-ever hockey GOLD; Americans [David Jenkins & Carol Heiss] topped both figure skating podiums.
The Games' spirit, the OLYMPIC FLAME stays lit 24/7, 365 days/year.  Pretty neat.  I was here.