Sand dunes, salt flats, mountain hike & my 77th marathon finish.  Last desert day…all good things come to an end.  Drove back by way of Dante's View — one last hike in the Park, one last overlook of Death Valley.  WOW, just WOW.
More than an afternoon in Vegas ['til my return flight].  Casino walk, afternoon show?  Naw…been there, done there.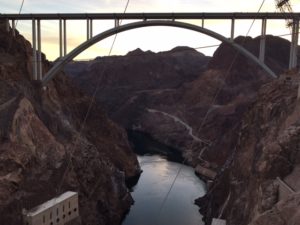 Hoover Dam.
Did a fly-over 2 years ago during my Grand Canyon Heli Tour, but never down, down, down to the Dam's base nor studied its history.
At the time of its creation, Hoover Dam was the largest of its kind.  Harnessing the power & volume of the mighty Colorado River, water is distributed amongst the West thru a system of pipes and irrigation canals.  Hoover Dam's reservoir, Lake Mead, is America's largest man-made reservoir.
Dam construction created thousands of jobs during the country's Great Depression & completed 2 years ahead of time.  The Dam's spillways were last tested in the 1980's; since then water levels have diminished significantly, triggering renegotiation of the Colorado River Compact within the next 2 years.  While Colorado snowpack has provided steady & consistent volume, population explosion in Las Vegas, Los Angeles, San Diego, Phoenix & Tucson have eroded Lake Mead's levels.
Living in Colorado, many of us grow frustrated and anger at California's seemingly wasteful use of water resources: creation of lush manicured lawns & agricultural water waste.  Arid landscaping — popular in Colorado, New Mexico, Nevada & Arizona — has not been widely adopted in America's most populous state.
…but I digress.  Breathe in, count to 10, exhale 🙂
$20 was the ticket price for the tour.  Historical film, followed by a series of elevator rides to the Dam's bypass pipes & massive hydropower generators.  The science as to how this all works — super interesting!
Elevator UP.  Walked the Dam perimeter, snapped sunset shots, self-toured its Monument.  Thank goodness for standby — 'cause this flyer missed his departure home.  Many thanks Southwest Airlines.  Life lesson learned.
Hoover Dam (in 47 seconds)