…so empty, so vast, so simple, so quiet.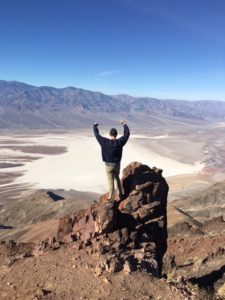 Friday a.m. flight to Vegas — airport closest to Death Valley Nat'l Park, 2 hours further 'cross the Nevada desert by car.  Entered the Park from the south.  2-night stay, 30 minutes away in Furnace Creek — trail marathon's host hotel & THE ONLY DIGS inside this Park's expansive parameters.
Panorama like no other National Park I've visited.  Massive canyon walls mined 80 years ago for Borax, America's first commercial laundry detergent.  Passed 2 ghost towns; sprung up here/gone during that boom period.  Pulled off at Zabriskie Point, leg stretch & first landscape soak.  Maize shades & earth-baked reds, enveloped by a 5000ft mountain range to the West.
Hotel check-in, snacked on grocery store apples.  2 hours of afternoon sun remaining, my 'gotta/hafta/wanna' trip destination: Badwater Basin, 282 feet BELOW sea level.  Whenever folks think of Death Valley, THIS is the place.  Sand?  Snow?  Nope, salt.  Salt flat, 5-foot thick…an ancient sea floor trapped/eroded between 2 volcanic mountain ranges.
Trekked a half-mile 'cross the crunchy salt-crystal terrain.  Put my tongue to its surface — salt, no joke. Sea salt trapped hundreds of miles inland, WOW — just WOW!  Tens of minutes stood & stared across the blank landscape.  I was here.
Returned to Furnace Creek via Artist's Point, a pastel-coloured mineral display sandwiched within borax-rounded boulders.  Early dinner, early sleeps, early a.m. marathon.
Fast forward 12 hours (marathon day).  Resumed my all-tourist schedule at Mesquite Flat Dunes.  Short hike over dense desert sand.  Kicked back behind a large dune; watched the sun set pink on craggy mountains opposite my body-plant.
Isolated from man, black skies touched by stars.  Dark, empty.  Beauty magnified.
Early to rise, early to hike.  Sunday.  30 minutes off the beaten path, followed park roads UP UP UP to Dante's View…well, about a mile from Dante's View — that's where the hike comes in 🙂
High in the mountains.  Peered across the vast valley expanse, Badwater Basin below.  Magic.
she became to me,

what the Constellations

are to sailors lost at sea

A map of the way Home.

when your heart has

given up and is too

terrified to roam.
Death Valley National Park
3 Responses to Death Valley Nat'l Park