Run the Year Motto:  Run, Crawl, Walk, Conquer, Dominate 2,016 miles in 2016
November 2016 update: 2 steps forward, one step back.  After completing my greatest # of miles in October, followed that with my weakest run month of 2016 – only 98.7 miles total.  Shared time with family in Orlando, then again during Thanksgiving week.  No regrets.  Struggled accumulating miles during the later stages of chemo (3 remaining treatments in December).
Checking-in mid-month December (& again at year-end), in an attempt to stay motivated/push hard/& finish 2,016 miles in 2016.  Will have to bang out > 200 miles one-last-time to meet the challenge.  Can't fail if you don't try 🙂
2 month focus (November & December): FINISH STRONG
Race ReCap:  two East Coast marathons: sub-4 miss (by mere minutes) at Marshall University in Huntington WV, just over 5 hours the following weekend in Orlando…but won my Age Group 🙂   36th consecutive month marathoning – 3 solid YEARS!
Mileage ReCap:  weakest month of the year, ended November at 1,771.7 miles (76 short, one month to go).
Happy December, KEENAN

This is it! You are in the final stretch and it is time to Finish Strong! How many miles can you add to your total before December 31st? What will the benchmark be for 2017?

Re-commit to running/walking your way through the holiday season. Keep the miles coming and prepare yourself for your best year yet when the clock strikes 12:00am on January 1st.

You have come a long way this year. Hold your head high and be proud of your progress. Finish the year strong and healthy and ready for more in the new year ahead. You've got this!
Running December 2 until January 1, is one of Denver's most anticipated events, which is a great opportunity for folks of all ages to enjoy the holidays or kick off the New Year with family, friends and colleagues.  Zoo Lights will span through 70 acres of Denver Zoo's campus, with nightly entertainment, animal encounters, Santa meet-and-greets and, of course, illuminated animal sculptures that swing through trees, jump across lawns hide in bushes and appear in places where they're least expected.
Special Friday nite preview, day after Thanksgiving – timing couldn't be better, 4 tickets please 🙂   20 minute drive to Westminster; piled into Ash & Tom's SUV for my first-ever evening trek to the Denver Zoo.  Christmas tunes, festive lights & hot chocolate.  Notta lotta animals visible in the dark, however the Zoo's indoors enclosures & aquarium were crowd-packed.  Ice sculptures, elephants, giraffes, river otters, bats, crocodiles, birds, exotic fish & reptiles.  Much to see & do.
Nite concluded with cards & board games (M/cards, Ash/Clue champ…yet again), tomorrow a.m. road trip.
Been 3 years since Tom 'popped the question' to Ash on Pikes Peak.  May 2017, it finally becomes official – the kids have scheduled their Colorado wedding in Silverthorne, a mountain community just outside of Breckinridge (west of the Divide).  M & I tagged along, as Ash & Tom reconnected with their event planner Saturday morning.  Food, check.  Bar, DJ, Lighting – check, check, check.  Centerpieces, glassware, tables/chairs, discussion 'bout the dance floor.  Whole lotta details.
Only surprise centered around the couple's outdoor ceremony – appears a large building will soon obstruct their natural Colorado 14er backdrop.  ARGH!  Plan B: wedding photos before the ceremony (mountain meadow per the bride's request), vows exchanged river side.  In the event of snow, an impromptu set-up will happen at the Pavilion.
MUCH appreciated the opportunity to see/hear/watch Ash & Tom finalize wedding details.  Excellent way to end the long holiday weekend – yet another thing to be thankful for 🙂   my gift?  the couple's honeymoon.  Stay tuned.
Denver Zoo Lights
Silverthorne Pavilion
July 5 2013 (Pikes Pikes proposal)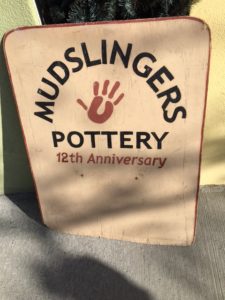 Holiday feasting over, woke Friday to sunshine.
After transporting Miss M to/from her facial appointment (who doesn't need a day of beauty?), grabbed some toast at Moxie Bread Company on Main & walked over to Mudslingers Pottery.
Asked Michaela what she wanted to do while in Colorado.  Ceramics.  I blame this entirely on my sister. Sis' 4th of July reunion activities were a BIG hit with MY fam.
Hmm…ceramics.  I could certainly one-up that, right?  How 'bout instead of just painting a piece, we actually sculpt & create something on a pottery wheel – bang out the whole process, from clay to final product.  How hard could it be?
Telling ya upfront – LOOKS are DECEIVING, whole lot easier in the movies 🙁
At Mudslingers Pottery School in old town Louisville, Colorado, people of all ages and ability levels come together in a relaxed but vibrant atmosphere to explore ceramic arts. We offer tools, support and instruction to help stimulate the artist in us all.
6 weeks of lessons, jam-packed into a 4-hour session.  Whole lotta chatter…learned the history of clay/various types of clays, wedging & eventually molding that clay on a potter's wheel.
Girls RULE this sport.  re-worded for clarity: Girls DOMINATE pottery.
Multiple attempts at keeping my clay ON the wheel – zing, zing, zing…and off it'd go.  Even with an apron, would leave today wearing my creation.  Mud up the arms, pant legs, couple swipes on the brow..a sloppy mud mess.
Fast forward another hour – created something bowl-like.  Success, done.
Oh we're not done yet…heck no.  Instructor John says we still have 45 minutes to create a 2nd piece – are you KIDDING me?  And now that we know how to use the wheel, we're attempting beer steins (at least that's what I'm calling my taller bowl/pot).
Like parachuting from a plane, great to try once in life.   Yep, just like that.  LOL>
Back in December to paint my 'art', then it's history.  One & done folks, one & done.
UPDATE (Feb 2017):  3 months later – baked, glazed & kiln'd again.  Our FINAL product ROCKS, huh?  LOVE LOVE it!  Thanks Ash & Tom for following up with Instructor John & finishing our pieces.  Whatta surprise!  Couldn't face Herr Potter again – just couldn't do it.
Mudslingers Pottery, Louisville