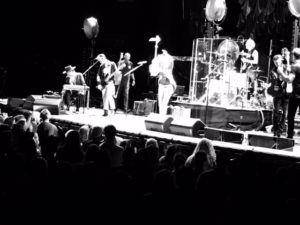 5+ years living in Colorado, never attended a concert.
Red Rocks in September, then Stevie Nicks at the Pepsi Center – what luck!  Received a phone call at lunch asking if I was available to attend same night.  Yep, that's the way it went down.  Stevie Nicks, FREE ticket, seriously?  ABSOLUTELY!!
Rode to Denver with a neighbor…so didn't even have to drive. (but not a complete moocher, I did pay for parking 🙂 )
Will Call'd my ticket – 5th row.  Opening act? Chrissie Hynde & the Pretenders.  Are you kidding me?!!  First time in 'the Can' (as locals call the Pepsi Center) – FAAANNNTASTIC – great music, great venue, great night.  Entire evening, almost too good to be true.
September quote repeat: Don't be afraid to say YES to the unexpected.  Be spontaneous, life is meant to be lived.
the Pretenders
Stevie Nicks
Stevie Nicks *FINALE*
One Response to Stevie Nicks & the Pretenders