While researching last week's make-up marathon, noticed another late addition to the Maniacs calendar.  7 hour car ride. Long haul but would be trail running the Oregon Trail.  Late registration, body feeling good…road trippin' to Hebron, Nebraska.
Run history.  Run beauty.  For the Oregon Trail Run of Nebraska, we have combined a run on the route of the Oregon Trail, California Trail and Pony Express route with one of the most picturesque roads in Southern Nebraska.  The first half of the Marathon will travel parallel to and intersect with the route that settlers took as they crossed Nebraska on their way to points west.  The first half of the route is mostly flat and offers a view that stretches for miles.  You can imagine the trail of "prairie schooners" keeping to the hilltops as they headed west together.

The second half of the route drops down into the Little Blue River valley, the gravel road that follows the river takes you on gently rolling hills through the cottonwood, oak, locust and ash canopies, by beautiful and fading farmsteads and limestone cliffs.  The trees should be in their peak fall color on race day and the surrounding landscape and abundant wildlife offer up photo opportunities around every bend.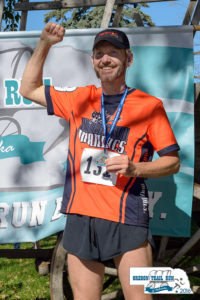 Out of work late, didn't reach the [Nebraska] border 'til past 9pm.  Listened to a high school football game over the radio – like going back in time.  Open highway last 4 hours, just me & a trail of truckers.  Planned on camping near North Platte or maybe Kearney.  Camping?  Yep, marathoning on a budget.  HA!
fun fact: Nebraska is in the Central Time Zone.  ARGH! unexpectedly lost an hour.  new plan: sleep in my Prius for 3 hours, then back on road – Hebron at 5:45am.
Race attire change (Maniac jersey, shorts & Newtons) in a gas station restroom (very classy LOL>), bib pick-up at a local church, back under blankets for one last 30-minute power nap.
Small group of runners racing today's FULL.  Piled into a school bus.  Cool temp start, clear, no wind, perfect conditions.  Flat dirt farm road.  Tractors & farm combines would soon choke our shared path.  Summer rain plus warm Fall weather = late grow season, good year for farmers.
Went out quick.  Big FAN of the landscape – rows & rows of corn.  No trees in Nebraska.  Should the sun warm quick, I'm gonna cook.  Stark difference from my Colorado panorama.
Dodged 4 BIG machines (stirred up a lotta dust), made the turn at mile 8…had the rest of the road to myself.  Stayed top 3 thru mile 10, dropped to fifth at the Half.  Cottonwoods intermittently dotted dry (seasonal) river beds.  Rolling hills, more corn.
Field of runners grew as late-start Halfers caught [me] on the final 10K.
Entered Hebron, passed Thayer County High on 10th Street, finished downtown in Roosevelt Park – SUCCESS – marathon #73, 6th place overall.
Results

1 Wesley Hochstetler  Oregon Trail Marathon M 3:41:42

2 Troy Pruett  Oregon Trail Marathon M 3:46:23

3 Laurence Burnsed  Oregon Trail Marathon M 4:07:41

4 Tim Pratt  Oregon Trail Marathon M 4:11:33

5 Shane Sundermann Oregon Trail Marathon M 4:13:01

6 KR Haga  Oregon Trail Marathon M 4:27:36

7 Gale Dingwell  Oregon Trail Marathon M 4:34:08
Showered in the high school gym (much appreciated), then highway-trekked home.  7 hours up, 7 hours back.  Marathoning on a budget.  Listened to college football (Nebraska-Purdue) on the ride home.  Nebraskans LOVE their Cornhuskers.
Next weekend: Narragansett, Rhode Island
UPDATE:  Purchased corn-on-the-cob popcorn while road trippin' 'cross the Prairie.  Ash contends the instructions were vague.  Nothing said to cover the bowl while microwaving.  LOL>
3 Responses to Oregon Trail Run of Nebraska