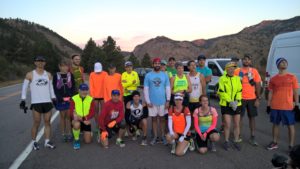 After last weekend's marathon fail in Boulder, wasn't sure when I'd next long-run.  Down a day depressed, whole lotta sleep – then like most, licked my wounds & got back on the horse.  Short run Tuesday, 8 miles Thursday…head back in the game.
Thursday morning identified a last minute race addition on the Maniacs calendar – only an hour-half from my home.  Late registration thru Friday night.  Done; meant to be.
Laid low Saturday, short hike in Eldorado Canyon, bed by 9pm, up again at 3:15am.  Quick shower, walked/fed Ro…on the road north by 4am – marathon meet-up at 530am in downtown Fort Collins.  Late instructions, Race Director greeted participants – in particular, a large Fort Collins Running Club contingent – all car-journeyed to the Canyon, parked at Picnic Rock Rest Area (mile from the Finish), then van-pooled another 2,000ft UP the Canyon to today's high-altitude start: milepost 94 on Poudre Canyon Road.
Super scenic landscape.  15 miles course-shared with the Colorado Marathon.  Lotta memories there – race where I finished my 50 State Quest.  Cool temps 'til the sun rose – but not as cold as last May…was literally snowing last time I ran this route 🙂
Start time: 713am…yep, that specific (daybreak)
Pre-race pic; pretty much on my own after the first 4-5 miles.  Course spilled between large canyon walls, Cache la Poudre River on runner's left…saw maybe 2 vehicles total.  Surrounded with views of the Rockies ALL day.  Quiet & isolated.  BIG smile.
(last 10K) Picked off by a few runners but finished 12th overall (super small field).  4:30 finish, not bad at 7,000ft.  AND for the first time ever, won my Age Group & scored a bobble-head.  Marathon 72 RE-DO SUCCESS!
No marathons for 2 weeks but…maybe/might have located another last-minute race, just 7 hours away in Nebraska.  LOL>
Cache La Poudre Canyon Marathon – October 16, 2016

20 Keenan Haga  4:33:07