Slacklining refers to the act of walking or balancing along a suspended length of flat webbing that is tensioned between two anchors. Slacklining is similar to slack rope walking and tightrope walking.

Slacklines are tensioned significantly less than tightropes or tightwires in order to create a dynamic line which will stretch and bounce like a long and narrow trampoline.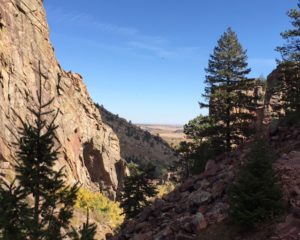 After last weekend's marathon fail, quickly identified a marathon 'make-up' run for Sunday.  Woke that day feeling crummy & mentally spiraled downward 'til I called it at mile 15.  Prior day glacier hike possibly a factor?  Not sure; have both good & bad days…like many facing cancer.  That said, planned a light hike today in Eldorado Canyon.
Beautiful sunny skies, temperate weather.  Gave $12 (trail repair donation) & watched a young slackliner walk 600ft, high in the Canyon between Wind Tower & Bastille Rock. Didn't know the kid was wearing a safety line so freaked out first time he fell.  They never fall on TV – didn't know, whew.  Windy day – mighty inspiring.
Short UP & down, easy hike in the Canyon.  Chose Fowler Trail, WOW views.
Back in Boulder, got my Oktoberfest on, then picked up fresh produce at the Farmers Market before sharing dinner with my North End neighbors.  Early start tomorrow – marathon bus leaves Fort Collins at 530am.
24-year-old man completes "first across" on slackline 400-feet above the ground at Eldorado Canyon State Park

Taylor VanAllen, 24, waves to the crowd below after making the FA, or First Across, high above Eldorado Canyon, on a high-line from the Wind Tower rock formation to the Bastille rock formation 450 feet off the ground and just shy of 600 feet across in Eldorado Canyon State Park on October 15, 2016 in Boulder, Colorado. VanAllen, an athlete with Slackline Industries, recreated the historic Ivy Baldwin high line crossing of Eldorado Canyon in a benefit for trail building at the state park. VanAllen crossed from the exact location as the legendary Baldwin. Baldwin, who was a high wire performer, did the crossing on a high wire over 80 times in his lifetime. The last time he made the 600 foot walk was on his 82nd birthday in 1948. VanAllen's walk was the first ever by a High Line walker on a slack line.
VanAllen, a Morrison resident, was retracing the steps of legendary tight rope walker Ivy Baldwin, who traversed the canyon many times in the early and mid-20th century. The anchors he used to set a high wire are still in the rocks.

It took VanAllen 18 minutes to get across.

"He did really well," said Jaime Pletcher, marketing director for Slackline Industries, which is VanAllen's sponsor.

"He did well considering the wind was whipping him around every place," Pletcher said. "We thought it was going to take 40 minutes."

Because he was already up there, VanAllen walked the line three more times, doing tricks on the fourth trip. The third trip, however, was the most important, because he got his "send," a term slackliners use to describe getting across the line without any slips.

"It was good to see success," VanAllen said. "It was great to get the send. The first walk was pretty rowdy. It was windy, and the line was moving every way. It slowly started to calm down, so I got some good walking in."

The money raised through ticket sales will be donated to Action Committee for Eldorado, which board member Scott Bennett said will be used to maintain trails and keep anchors that the rock climbers use, safe.
2 Responses to Slacklining