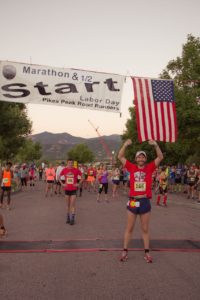 End of holiday breaks are always kinda sad – sharing one chalked full of adventure with my Canadian bestie, definitely bittersweet.  Ballooning, hiking, high altitude fine-dining, plus tourist trekking in Manitou Springs & Garden of the Gods – EPIC!  Thanks again Sar 🙂
Weekend concluded with a rare Monday marathon – a Labor Day urban-trail run thru Colorado Springs.  Early morning start in America the Beautiful Park.  Saw many of my Maniac running pals before Race Start. Haven't run a ton of marathons this summer, 6 total.  In perspective, guess that's not so bad.  HA!
One of my most patriotic marathon starts – Star-Spangled Banner sung proudly by many this day.
Went out fast, hung with the 3:45 pace group for 10 miles – finished my first Half in under 2.  Relearning to run with pace this past month.  Have a PR goal in mind for November (Marshall University Marathon).
Nice mix of bike path & dirt – not overly hilly either. Altitude is always an element when Colorado running but today's late race obstacle: HEAT.  Forewarned temps would kick up to 80, no trees mile 18 to Finish.
Popped a pill at 15 – my first experiment at marathoning with meds.  Consistent & beefed-up training are gonna reduce my need for Western medicine.  In the meanwhile, plan to stay ahead of nausea – not altering my life, will continue to marathon…even with cancer.
Slowed pace to a 10:30/mile jog from mile marker 18.  Sun was there, sure – but I stayed steady/consistent, stopped for water/doused my head, but didn't walk.  Not my fastest, not my slowest – mentally however, HUGE victory.  2nd consecutive week marathoning & FINISHED feeling GREAT.
American Discovery Trail
September 05, 2016


166 K R Haga Louisville CO 4:56:23
Post-marathon DINER dinner celebration – [presently] diet-restricted from red sauce, but not 1950's Americana fare 🙂  Shared a few last laughs with Sarah; chauffeured my Toronto-based friend to DIA morning following.
Busy 3-day weekend.  Think I need a vacation from my stay-cation.  Thank goodness for work days.  LOL>
3 Responses to American Discovery Trail Marathon