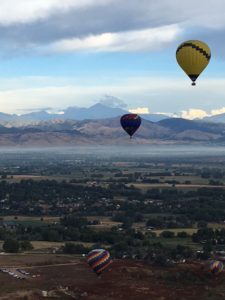 3-day Labor Day weekend – where to go?  How 'bout a stay-cation?  Lame.  Well…not if your favourite blogging pal Sarah is flying in from Canada.  Super fun, right?
Set the alarm for 530am – 'cause it's Saturday of course.  LOL>  Reserved two spots for a hot air balloon ride – couldn't be a better way to show off my home state, Colorado.
Not a lotta prep required for newbies – just hold on!
Daybreak.  Watched the team first fill the balloon with cold air, then switched on the fuel.  8 of us jumped in, then up up & away we sailed high above – AMAZING views of the Rockies.
Beautiful experience.  WOW!
Activities complete?  Heck no.  High elevation hike, fancy eats at 8000ft, Garden of the Gods & a Monday marathon in Colorado Springs.  Just started with a balloon ride – wait & see 🙂
Ballooning in the Rockies
2 Responses to Ballooning in the Rockies