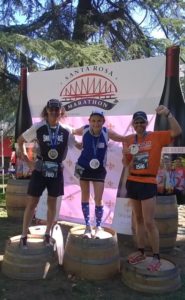 6am marathon start – back that an hour in Sebastopol where I picked up Carolyn.  She slept in an all-female teepee commune (Airbnb).  Makes Motel 6 sound a bit more sexy, huh? (actually kinda jealous — HA!)
Overcast cool morning – couldn't ask for better running weather in August.  FAAANNNTASTIC!
Started in Corral 2, race paced quick.  Hadn't run with Carolyn since our NM desert trail run last March.  Good conversation, felt super relaxed.  Generally I'm a solo runner, even in training – much appreciated sharing the day.  I'd get a little fast, Carolyn would pull back the reins.  sub-9 pace for 10 miles.  Thanks friend.   Not looking for a fast 10K, but a steady sub-4 marathon finish.
Mike from Southern Cal joined our pack; finished the Half three-four minutes under 2 hours.  Nice flat course, few rolling hills, cloud cover protection from August summer rays.
Unfortunately, started puking at mile 13, then again at 15.  Slowed, couldn't hold with my running pals – but kept pushing, didn't quit.  Sick again at 18.  Popped a pill at mile 21 (brought one along, just in case).
Stomach settled before mile 23 (big thanks Zofran).  Slogged next 2 miles.  Saw Carolyn just after the 25 mile-marker.  She finished 3:59+, then walked back to pace me – WOW, thanks pal 🙂
Marathon 68 done.  Marathon run streak continues at 33 months consecutive.
My first 26.2 since being diagnosed – and I had a GREAT 15 miles.  Getting stronger, really good day.
Santa Rosa Marathon  28 August 2016

K R Haga

Net Time  04:39:31.003

Event:  Full Marathon

Race No:  1516

Country Representing:  United States

Wave:  Full Marathon Start 6:00 AM
With yesterday's 50 States Award Presentation, not a lotta time for pre-marathon adventuring.
[however] 6pm return flight home.  Plenty o' hours to get our California on 🙂
Quick stop at the Charles Schultz Museum.  Always been a Peanuts fan.  Received a plush Snoopy as a one-year-old from my Grandmother.  Memory tugs at the heart.  Started the drive back to San Fran early – destination: Golden Gate Park (a close 30 minutes from the airport).  Bridge ride-over, pulled off along the ocean.  Walked beachside past Seal Rocks, up to Cliff House.
Palm trees, sand & blue ocean water – ah, yes…California.