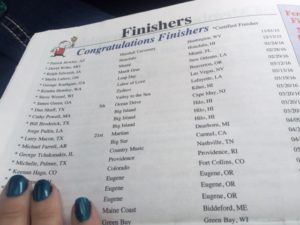 Plan always was to finish in Colorado – marathon all 50 states but gotta/hafta/MUST finish in Colorado.  Set a goal, meet a goal, make it happen.
the 50 States Marathon Club certifies results & presents awards at our quarterly reunions – reunion locations which rotate 'round the 50 States.  Super nice to be recognized amongst one's peers – we're a tight running community.
First opportunity to receive my award, club's 3rd quarter reunion in Santa Rosa CA.
early Saturday a.m. start – flight delay, heavy fog in San Francisco.  Met up with Carolyn (my running partner from Indiana), picked up the rental & hit the highway.  Slow going even on the weekend – Cali loves their traffic.  Crossed the Bay Bridge.  Soooo many cars. Two ½ hours later arrived in California wine country.  Bib pick-up for tomorrow's 26.2 at DeLoach Vineyards, nestled in Sonoma County's Russian River valley.
Located our reunion location – cool temp room, walled with oak wine barrels.
Whatta journey.  Alaska to Hawaii, Maine to California, 26.2 miles in every U.S. state.  Additionally, I'll attempt tomorrow to keep my monthly marathoning streak alive.  Haven't missed since December 2013.  FAAANNNTASTIC!
50 States Award Presentation
3 Responses to 50 States Award Presentation