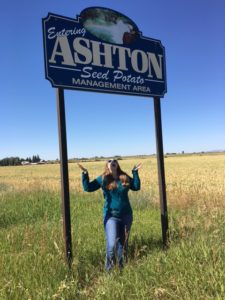 2 days in Yellowstone, day plan to finish our Montana summer vacation in the Grand Tetons.
Checked out of our Ennis MT digs & started the journey south, 'cross the Continental Divide, thru Idaho – in particular: Ashton, Idaho.  Trip wouldn't have been complete without visiting our country's Seed Potato capitol. HA!  True dat – but Ashton visiting Ashton [Idaho] was more the prime motive 🙂
Ashton ID: population 1127.  Photo shot 'round every local sign – then plotted east.  Dropped off any/all major roads & unexpectedly trekked 32 miles on dirt.  Stopped 7 miles in; wide expanse of lily pads & pine.  Quiet, peaceful.  Just dragonflies & forest.
2 hours in Targhee National Forest, popped up on Flagg Ranch, inside Grand Teton Nat'l Park.  Never saw a ranger, never passed a booth.  Score!  (reality is: I carry an annual park pass anyway)
Scrapped plans to hike Jenny Lake & travelled south & east another hour to Moran Junction (the Park's East entrance), past Jackson Lake Lodge, up Pacific Creek Road & 5 miles of gravel.
Destination: Teton Horseback Adventures
Ash mentioned 2 days earlier…wouldn't it be great to horseback ride in the mountains?  Heck yeah. Multiple water crossings, spectacular high peak backdrop.  GREAT idea!
Gazed 'cross Jenny Lake – all vacations come to an end – then dined BIG, 20 minutes south in Jackson [Wyoming].  Air bnb fail in Driggs [Idaho] but luckily Ash secured a last-minute room locally.  [The digs in Driggs, a youth hostel bunk bed share – wee bit old to share a room with teens.]
Long ride home across Wyoming on I-80, 10 hour drive (thanks Tom).  Back to work in the a.m.
Summer time fun – 2nd family trip of July.  FAAANNNTASTIC!
Yellowstone: Part 3 – the Tetons