Run the Year Motto:  Run, Crawl, Walk, Conquer, Dominate 2,016 miles in 2016
July 2016 update:  Month o' mighty family vacations – week in St. Louis, week in Montana.  Struggled to get in all my miles, but overall fairly consistent – missed only 6 days.  It's summer time, I'll take it.
2 month focus (July & August): ENDURANCE
Never been a summer runner – completing my miles, just getting it done in July & August will be a personal victory.
Race ReCap:  completed marathon #67 in Aspen, my 5th FULL in Colorado, 32nd consecutive month marathoning 🙂
Mileage ReCap:  Still on track, ended July at 1,171 miles (5 miles short of goal).
Run the Year – August Newsletter

When you take on a year long challenge like this, you have to remember that you are not perfect.  If you were perfect, there would be no room for improvement, no reason to make goals, take on challenges, or fight to improve who you are.

If you were perfect there would be no room to grow, to learn, to struggle, or to take on the impossible. Being imperfect is what makes you interesting, beautiful, complex, fun to talk to at parties.  Being imperfect forces you to strive for success and to understand that failure is part of the process.

This month, celebrate your imperfections.  Pick one thing to improve.  Maybe add an extra mile to your weekly log.  Maybe skip your afternoon snack.  No matter what you choose, choose it knowing that you will still not be perfect – but that's what makes the progress feel so good.
Don't think too hard  – I'm still a registered Libertarian.
but [First Lady] Michelle Obama's speech at the Democratic National Convention – WOW, just WOW!  Definitely, worth a view.  It's not just the words, her delivery — it's the emotion in those words.
That is the story of this country, the story that has brought me to this stage tonight, the story of generations of people who felt the lash of bondage, the shame of servitude, the sting of segregation, but who kept on striving and hoping and doing what needed to be done so that today I wake up every morning in a house that was built by slaves.  And I watch my daughters, two beautiful, intelligent, black young women playing with their dogs on the White House lawn.
If you can't handle the Clinton rah-rah hoopla, forward to 11:20 in the video below.  GREAT speech!
That said, still voting my conscience this election cycle – choosing Johnson/Weld for President.  Both former governors, both qualified to run our country.  If ever a time to buck the trend of voting major party – Democrat/Republican – this is OUR year.
HUGE fan of states' rights & self rule.  Can't be convinced that white men 2 time zones away know best how to govern my adopted home, Colorado.  Can't be convinced that the needs of Colorado are the same as those in New Jersey.  Our country is super diverse, big government STAY OUT & let native thinking take care of local needs.
Ask me what I think about selecting Supreme Court justices?  ARGH!  🙂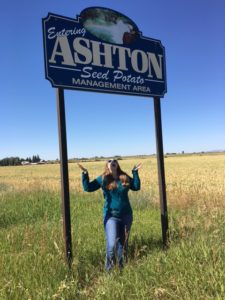 2 days in Yellowstone, day plan to finish our Montana summer vacation in the Grand Tetons.
Checked out of our Ennis MT digs & started the journey south, 'cross the Continental Divide, thru Idaho – in particular: Ashton, Idaho.  Trip wouldn't have been complete without visiting our country's Seed Potato capitol. HA!  True dat – but Ashton visiting Ashton [Idaho] was more the prime motive 🙂
Ashton ID: population 1127.  Photo shot 'round every local sign – then plotted east.  Dropped off any/all major roads & unexpectedly trekked 32 miles on dirt.  Stopped 7 miles in; wide expanse of lily pads & pine.  Quiet, peaceful.  Just dragonflies & forest.
2 hours in Targhee National Forest, popped up on Flagg Ranch, inside Grand Teton Nat'l Park.  Never saw a ranger, never passed a booth.  Score!  (reality is: I carry an annual park pass anyway)
Scrapped plans to hike Jenny Lake & travelled south & east another hour to Moran Junction (the Park's East entrance), past Jackson Lake Lodge, up Pacific Creek Road & 5 miles of gravel.
Destination: Teton Horseback Adventures
Ash mentioned 2 days earlier…wouldn't it be great to horseback ride in the mountains?  Heck yeah. Multiple water crossings, spectacular high peak backdrop.  GREAT idea!
Gazed 'cross Jenny Lake – all vacations come to an end – then dined BIG, 20 minutes south in Jackson [Wyoming].  Air bnb fail in Driggs [Idaho] but luckily Ash secured a last-minute room locally.  [The digs in Driggs, a youth hostel bunk bed share – wee bit old to share a room with teens.]
Long ride home across Wyoming on I-80, 10 hour drive (thanks Tom).  Back to work in the a.m.
Summer time fun – 2nd family trip of July.  FAAANNNTASTIC!
Yellowstone: Part 3 – the Tetons