Have become super sensitive with my run schedule since April.  Learning balance.  Consistent training & rest, now a key part of active marathoning.  PR goal this Fall – leg fatigue or re-injury would limit that.
Ever since my first Fall snow hike 4 years ago, Steamboat has always tugged at my heart.  Returned the following year for my first (& only) Half Ironman.  It was there I was humbled by my first open water swim – BIG difference from lap swimming at the gym.  HA!  Steamboat Springs was also my initial 50 State finish destination.  3 hours from home however; added Fort Collins last minute to better share the experience with family & friends.  No regrets…but still love me some Steamboat, not missing Sunday's 26.2.
Been heating up all week, start of our 4 month summer season.  Not a hot weather runner – but who doesn't love summer?  14er hike   season 🙂  Left Ro with Ash on Saturday, drove US36 to Denver, I-70 West past the Divide.  Snow garnished the landscape just past Idaho Springs.  Last hour-half north from Silverthorne, summer heat gave way to snowy meadows as I upped elevation & crossed Rabbit Ears Pass.  Haven't seen winter precip since my Evans hike last month.  Kid giddy.
Bib pick-up, light dinner, 8pm hunkered down.  Early start tomorrow.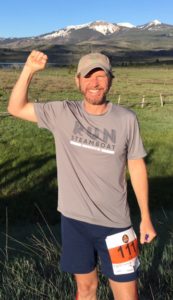 Pre-dawn parked downtown, caught the marathon Start bus.  Point-to-point course, 8100ft elevation.
Chilly arrival, almost an hour early – watched the sun rise over Hahn's Peak.  double WOW!  Fought the urge to double-shirt & slabbed on extra sun block.  Temps would soar +30 degrees by Finish.
Small marathon field – less than 300 – & similar to Coeur d'Alene, jacked with elites and tri-athletes.  Another high altitude training hub.  Hilly start, first 4 miles.  Long slope decline thru 8 – fairly flat going forward.  A few rolling hills but nothing to wake the quads.
sub-2 first half, another fade to the Finish.  Heat cooked.  Flagged down an aid truck at 18 but changed my mind & waved him on.  Followed a group of young runners next 2 miles, then iPhoned Ash at marker 20 for inspiration.  Last miles to town, a mix of jog, walk & slog.
I live in altitude (5600ft) but add a 1000ft & my lungs beg for air like a flatlander.  Not enough high altitude marathoning in my war chest.
Stopped digesting water at 24.  Rinsed my mouth last 2 aid stops for hydration – anything swallowed, I spewed on the highway.  Physically I've got this – mentally, I still struggle in heat.  Determined to succeed.
Last half-mile finished strong.  Medics applied ice [to the] back of my neck, poured water over my head.  Hot, dehydrated – up and on my way in 20 minutes.  Not pretty – I get that – but it's all a process.  Thin air & summer heat, not a strength…yet.
McDonalds splash bath, 3 hours open highway.  Colorado marathoning: home before dinner, still gotta walk the dog 🙂
Steamboat Marathon – June 5, 2016

K R Haga        Louisville CO       5:07:30