Run the Year Motto:  Run, Crawl, Walk, Conquer, Dominate 2,016 miles in 2016
June 2016 update:  COMEBACK month x2!  Second month of consistent training, multiple day run streaks & 3 more marathons – including my first 2 Canadian provinces (five-year goal to run all 10).
Positives?  Over the past 2 months, buckled down & caught up a 71 mile deficient (April injury fail).
2 month focus (July & August): ENDURANCE
Never been a summer runner – completing my miles, just getting it done in July & August will be a personal victory.
Race ReCap:  3 marathons – 2 at altitude (Steamboat & Banff), 2 in Canada (Alberta & New Brunswick) – including my first in kilometers (had never previously seen a '40' marathon marker).  Highlight: BANFF.  Bucket list hike destination – Lake Louise, WOW!
Mileage ReCap:  HUGE – 2nd straight month, 200+ miles; ended June at 1,008 miles (half-way thru 2016).
31st consecutive month marathoning.  Streak started with my second 26.2, December 2013 in Tucson.
Run the Year – July Newsletter


Hey 2016ers. Did you know this challenge is supposed to be difficult??

If this challenge were easy it would not hold the same appeal. Taking on a challenge where there is a real possibility of failure is exciting and terrifying and nerve-wracking. The desire to face our own limitations, to overcome obstacles, and finally accomplish what we could not manage previously, is what makes a challenge like this so enticing. That's what makes this challenge, and you, special.

No matter where you are on your journey, commit to going extra hard this month. Commit to getting in more miles in the next 31 days that you have all year. Embrace the difficulty of the task you have chosen and know that the more obstacles you have to face, the greater the feeling of personal satisfaction and fulfillment you get from each milestone. Keep rocking the miles!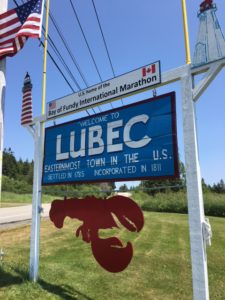 Early a.m. drop-off at the Lubec School, followed by a bus ride to today's marathon start at Quoddy Head State Park.  Lighthouse & an ocean view.  All smiles.
Temps would surpass mid-80°F  by marathon end – summer marathoning norm, even in Canada.
Stretched, chugged water, last-minute porta-a-john use – filled time while awaiting the National Anthem…O' Canada would be sung today.  My second Canadian province in 2 weeks.  YES!
Flat, easy start.  6 miles to Roosevelt Memorial Bridge.  Cleared Customs in advance – no drama.
I'd follow the same path as yesterday's sight-see to Head Harbour Lightstation. Only one east-west route on Campobello…gonna take more than 15 minutes to cross the Island today by foot.  LOL>
Lotta rolling hills.  Find the change in pace suits [me] more than miles of flat pavement.  Another beautiful sunshiny day, albeit a bit warmer than yesterday.  Roosevelt Campobello Int'l Park, Friar's Bay, Herring Cove Provincial Park.  Stayed on Route 774, kept right & caught much-appreciated shade past Wilson's Beach.  Trekked to the end of Lighthouse Rd – stopped & gazed at Head Harbour Lightstation before water fueling for the return loop to Lubec [pronounced: loo-BECK].
Last 10k, started feelin' the full morning rays.  Slogged a mile+ with 2 early-start 50 Staters.  Good mental refresh – LOVE my running community.
Saw Mulholland Point Lighthouse in the distance (approx 2 miles to go).  Up & over the bridge, past the International Boundary Line, US Customs folk cheered as we raced into downtown Lubec toward the Finish.
Marathon SUCCESS!  Finish Line #66 – 2nd Canadian province, 17th long run of the year (including 3 ultras).
2016 Bay of Fundy International Marathon

Congratulations K R on completing, with a finish time of: 4:46:29.
Today's post-race food reward?  Plate of local-catch steamers.  FAAANNNTASTIC!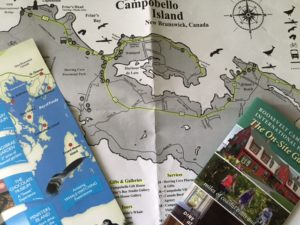 Campobello Island – pretty exotic name for an island settled by Brits, huh?
Another after-work Friday nite flight.  Early a.m. in Manchester NH, grabbed 5 hours sleep, then hit the highway with my friend Stephen – destination: New Brunswick, Canada.
5+ hour trek across all of Maine.  Sunny skies, warm summer temps.
Arrived in Lubec – quick pic at the easternmost town in the US – then 2 miles to FDR Memorial Bridge, our border crossing into Canada.  2 provinces in 2 weeks: Rocky Mtn west [last Sunday], now Atlantic Ocean east.  Big grin.
Campobello Island is located in the Bay of Fundy, known for having the highest tidal range in the world.  Top of today's sightseeing list: an ocean walk to Head Harbour Lightstation.
Campobello Island is an island located at the entrance to Passamaquoddy Bay, adjacent to the entrance to Cobscook Bay, and within the Bay of Fundy. The island is one of the Fundy Islands and is part of Charlotte County, New Brunswick, Canada.

The greatest tides in the world occur in the Bay of Fundy…. Burntcoat Head in the Minas Basin, Nova Scotia, has the greatest mean spring range with 14.5 metres (47.5 feet) and an extreme range of 16.3 metres (53.5 feet).
Visitors Center (maps, restaurant info & sightseeing musts), marathon bib pick-up upon entering New Brunswick & my 2nd Canadian National Park (ya'll know I'm a FAN).
Roosevelt Campobello International Park was created as a memorial to US President Franklin D Roosevelt – whose family built a summer home on the Island.  Who knew, right?  During my 50 State Quest, visited the homes of Thomas Jefferson & Abraham Lincoln PLUS the Clinton Presidential Library.  Never expected to be touring another American president's home…while in Canada.  HA!
Roosevelt Cottage was over-the-top staffed; knowledgeable guides spouting Roosevelt facts on each floor, in each room.  Coming from a middle-class upbringing, didn't leave feeling a close kinship with Roosevelts – interesting exploring their era though.  Talk 'bout lifestyles of the rich & famous. Kinda like the mansion walk in Newport RI; same time period, same old $$.
…it was a nationalistic movement in the 1880's that turned wealthy visitors away from Europe to spend summers in America.  Wealthy people with extensive leisure time flocked to resorts like Newport, Bar Harbor, St. Andrews, and Campobello.
Snagged an oceanview lunch, then travelled to the eastern edge of Campobello — to Head Harbour Lightstation.  Unfortunately,  missed low tide by several hours.  No worries.  Soaked in the ocean smell, gazed out across the water.  Beautiful day.  Lucky in life.
All essential to-do's checked off the list.  I'd see this lighthouse again during tomorrow's 42.2 🙂
Dinner & lodging accommodations in Maine.  Short return drive; east-west only 10 miles of road on this Fundy isle.  Snapped a pic at the International Boundary Line.
Sunshine & warm ocean breezes ALL DAY — good one to be a tourist.
Campobello Island, New Brunswick