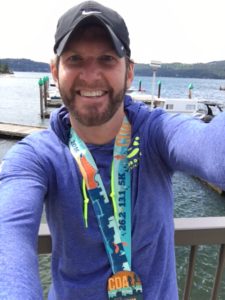 Slept in 'til 6am, didn't leave resort lodging 'til 6:30.  Marathon morning?  Perks of staying at The Coeur d'Alene, host hotel for today's marathon.  Small field of runners grouped near the Start, at McEuen Park.  Perfect weather.  Cool, sunny, upper 40's.  Beautiful country.  Deep greens, huge pines, reminiscent of Oregon's Crater Lake.
Gun pop; started out quick.  No more than 2 miles of town, then spent the next 9 hugging the expansive lake perimeter – same Lake I cruised open water yesterday afternoon.  Inclines at miles 4 & 7 but nothing noteworthy.  Unfortunately, felt sluggish this day – no special reason, just no mojo.
Found out Saturday, today's course was a double-loop trek.  Mentally checked out at mile 12; toyed with the idea of only finishing a Half.  Ultimately, indecision worked to my marathon advantage.  The Half turn-off came & went – I circled out of town for a 2nd tour of the lake.  Sun kicked up as did the temps.  A long sleeve hoodie maybe wasn't the best race attire decision I've made.  LOL>  Sure I was styling, but also heat-zapped by mile 18.  Ho hum…live & learn.  Scenery – still mighty amazing 🙂
Sub-2 first half, 3 hour 2nd lap – not ideal, but collected another medal, gained more experience & finished marathon #63.  Generally don't read runner reviews.  Haters are gonna hate…first three comments however, fairly summarized my CdA marathon experience.
marathonguide.com

Small race (243 finishers) so not much company – During the last 15 miles, I passed 5 or 6 people and was passed by one person, and had no one with 300 meters at the end.  Same story for my daughter.  It's a lot like a solitary training run.

The course – four trips over the same piece of pavement is about 2 too many.  I realize it's all about the half-marathon, but making the marathoners run 4 repeats over a significant hill was a bad idea.

Starting at 5:30 or 6:00 instead of 7:00 would've meant cooler temps and lots more shade. With temps over 70 and bright sun like this year, the last half of the race was a lot harder than it needed to be.

Aid stations should use bigger cups – Dixie cups that hold maybe 4 ounces before spillage during hand-off and drinking aren't very useful. It would also be helpful to have water and sports drink in the same order from station to station, or not intermingled at the same station.

Post-race foodstuffs were nothing to get excited about – oranges, bananas, and 1 free beer if you were so inclined and had time to wait in line. We had to head to the airport so didn't mind that the post-race stuff wasn't anything special.
Coeur d'Alene Marathon • 2016-05-29

230 Participants • 105 Women • 125 Men

K R HAGA  • Marathon •  4:58:36.4
Shower, fancy resort massage, lunch.
Spent the next 18 hours vacationing at a local B&B.  Talk about exceeding one's expectations.  20-minute drive in the woods.  Relaxed in lush green forest amongst towering pine, sipping herbal tea, eating homemade pie.  Why don't I B&B more often?  WOW, WOW, WOW!
Memorial Day Monday, back in Colorado.  Who doesn't love 3-day weekends?
Coeur de Lion B&B