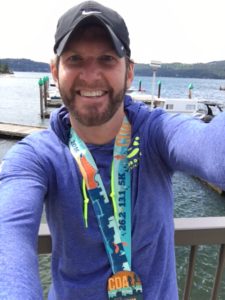 Slept in 'til 6am, didn't leave resort lodging 'til 6:30.  Marathon morning?  Perks of staying at The Coeur d'Alene, host hotel for today's marathon.  Small field of runners grouped near the Start, at McEuen Park.  Perfect weather.  Cool, sunny, upper 40's.  Beautiful country.  Deep greens, huge pines, reminiscent of Oregon's Crater Lake.
Gun pop; started out quick.  No more than 2 miles of town, then spent the next 9 hugging the expansive lake perimeter – same Lake I cruised open water yesterday afternoon.  Inclines at miles 4 & 7 but nothing noteworthy.  Unfortunately, felt sluggish this day – no special reason, just no mojo.
Found out Saturday, today's course was a double-loop trek.  Mentally checked out at mile 12; toyed with the idea of only finishing a Half.  Ultimately, indecision worked to my marathon advantage.  The Half turn-off came & went – I circled out of town for a 2nd tour of the lake.  Sun kicked up as did the temps.  A long sleeve hoodie maybe wasn't the best race attire decision I've made.  LOL>  Sure I was styling, but also heat-zapped by mile 18.  Ho hum…live & learn.  Scenery – still mighty amazing 🙂
Sub-2 first half, 3 hour 2nd lap – not ideal, but collected another medal, gained more experience & finished marathon #63.  Generally don't read runner reviews.  Haters are gonna hate…first three comments however, fairly summarized my CdA marathon experience.
marathonguide.com

Small race (243 finishers) so not much company – During the last 15 miles, I passed 5 or 6 people and was passed by one person, and had no one with 300 meters at the end.  Same story for my daughter.  It's a lot like a solitary training run.

The course – four trips over the same piece of pavement is about 2 too many.  I realize it's all about the half-marathon, but making the marathoners run 4 repeats over a significant hill was a bad idea.

Starting at 5:30 or 6:00 instead of 7:00 would've meant cooler temps and lots more shade. With temps over 70 and bright sun like this year, the last half of the race was a lot harder than it needed to be.

Aid stations should use bigger cups – Dixie cups that hold maybe 4 ounces before spillage during hand-off and drinking aren't very useful. It would also be helpful to have water and sports drink in the same order from station to station, or not intermingled at the same station.

Post-race foodstuffs were nothing to get excited about – oranges, bananas, and 1 free beer if you were so inclined and had time to wait in line. We had to head to the airport so didn't mind that the post-race stuff wasn't anything special.
Coeur d'Alene Marathon • 2016-05-29

230 Participants • 105 Women • 125 Men

K R HAGA  • Marathon •  4:58:36.4
Shower, fancy resort massage, lunch.
Spent the next 18 hours vacationing at a local B&B.  Talk about exceeding one's expectations.  20-minute drive in the woods.  Relaxed in lush green forest amongst towering pine, sipping herbal tea, eating homemade pie.  Why don't I B&B more often?  WOW, WOW, WOW!
Memorial Day Monday, back in Colorado.  Who doesn't love 3-day weekends?
Coeur de Lion B&B
Memorial Day weekend: unofficial kickoff to summer – and for the past 3 years, summer's meant summer running.
Set my 10K PR in 2014 at the Bolder Boulder, last year marathoned in Burlington Vermont. Continuing the streak this Sunday in the Inland Northwest at the Coeur d'Alene Marathon.
Direct flight to Spokane, hotel 40 minutes away in scenic Idaho.  Huge towering pines.  Massive river-fed natural lake.  3 days of mental download, relaxation 🙂
When I originally booked this race months ago, was supposed to travel with a friend – that fell thru so…splurged & booked a room at the Resort which hosts Sunday's marathon.
Hotel check in, bib pick-up – done in 15 minutes.  Nice!
Popped on a jacket & explored the city's downtown center (Sherman Street).  Walked dockside, down the world's longest floating boardwalk (3300 ft long) – past shops & restaurants, a fleet of recreational watercraft, up n over a floating bridge, then spontaneously purchased a cruise ticket 8 minutes before the ship set sail.  Good timing.
90 minute excursion.  Saturated in the smell of evergreen, sat on top & took in the lake's cool breeze. Solo trip.  No talk, no FaceBook – unplugged, first day summer vacation.
Disembarked, took in 2 parks, watched the sunset from my tower window.
First day of summer, complete.  Running 26.2 tomorrow a.m.  New adventure, new experience – first marathon since May 1st, time to get back on the horse.  No regrets life.
Lake Coeur d'Alene cruise
Continuous exercise can produce short-term euphoria, an affective state associated with feelings of profound contentment, elation, and well-being, which is colloquially known as a "runner's high" in distance running.
Lotta attention attributed to 'runner's high', a naturally induced opioid-like euphoria.  Long distance run junkies, the accusation.
My CEO refers to 'earned energy' in his blog below.  Lotta kind words (thanks Paul) but I tell ya: my high energy level wasn't achieved overnight.  It's consistency – not weekend marathoning – which produces that addictive endorphin high.
'earned energy' [unlike drugs] is maintained in the body 10-12 hours, a full work day+. Steadiness, high productivity, even temperament & mega confidence spills over into ALL aspects of life – not limited to only the morning run.
My injury in April, blessing in disguise.
Broken down physically, went back to the run archives & re-started the process.  Training. Knowing I'd struggle posting 3 weeks of consistent mileage, added an accountability partner (Carolyn) to keep me true to the process.  Less than a week left in May, I'm on track to finish 200 miles – first time since 2014.  FAAANNNTASTIC!
Don't confuse the message though.  It's not the # of miles; it's the getting up when you're tired, bored, busy, depressed, hot, cold, blah – whatever excuse – getting up & moving.
opportunity: 24 hours a day, every single day.  Use ONE of those hours – just ONE – & give back to yourself.  Make it count & MOVE.
[preachy segment]  Surround yourself with positive peeps.  We are not obligated to solve our friends & family's problems.  Be there for a mate (everyone has a bad day) – but ya know, not everyone wants to be rescued.  Some folks are perpetually stuck.  I can't because…  I could but…  If only I…  You can't…
Distance yourself.  Detach.  What I've learned?  No one is ever gonna remember.  If you're doing it hoping for recognition – it's not coming.
Skydive, volcano hike, marathon all 50 States – do YOUR thing, but do it.  Walk the talk.  Live now.  Laugh.  Smile.  Be happy.   #noregretlife
Mounds State Park, IN (running posts from Carolyn)
Paul's Post: Earned energy

Thursday, May 26, 2016

Our financial controller, Keenan Haga, likes to run. He likes it a lot. He's one of only a handful that has run 50 marathons before he was 50.

One of the reasons he runs is for the earned energy, called endorphins. Endorphins charge you up after exercising and, if you exercise enough, you start to depend on them, hunger for them, like a junkie. Endorphins are the prize I get after a morning run, though my efforts are paltry compared to Keenan's.

Energy you earn is superior to energy you force into something (like the "energy" of caffeine). Take for example a DAC.

We're in the middle of the final voicing of Torreys, the new operating system for DirectStream and DirectStream Junior. And one of the things that strikes me most is the energy some of the versions present. We voice the DAC by careful listening to different compilations of FPGA code. Each compile sounds different than the other. On some versions voices, both human and instrumental, seem to resonate with an energy that is very close to the spine tingling reactions we get at a live performance. Yet other versions are dull, lifeless, and sound recorded.

I suppose you could duplicate the energy some versions present by artificially pumping up a certain frequency range, adding energy artificially, but I bet it would never sound the same or have the sense of magic I hear in these version changes.

I think energy, naturally acquired through the hard work of exercising or voicing products, will always trump external attempts to add in something that isn't natural.

Better to earn it than to force it.

4,474 people are currently subscribed to Paul's Posts