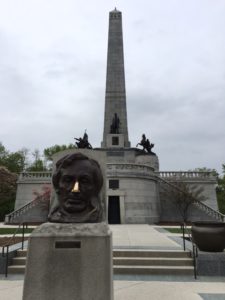 Takes 'bout as much strategy to finish 50 states in 3 years, as it does actual running.  States like Delaware, Rhode Island & Connecticut have only one or two marathon options a year.  ALSO – Spring (April) & Fall (October) are PRIME TIME…change of seasons sport multiple competing events.
Never expected #49 would happen in Illinois but this state provides a whole lotta running options.  With Chicago off my radar, registered for the Illinois Marathon in Champaign-Urbana. [not a fan of crowds, already ran one major: NYC]  Located only an hour-half east of Springfield, allowed me to visit the Land of Lincoln – place where our infamous 16th President started his family & political career.
Friday morning flight – met up with Stephen, who landed 15 minutes earlier from New Hampshire.  Rental car pick-up, lunch at a highway-exit Subway, 2pm in Springfield (Illinois' capital city).
Arrived just in time (4 minutes prior) for the ranger-guided Lincoln Home tour, watched 10 minutes of two National Park films, then drove to the Lincoln Presidential Museum another 10 minutes away.  This museum is a MUST – time-challenged, chose to visit 'Lincoln-White House Years' & caught both recommended movie events.
Stepped out of 'Pre-Presidential Lincoln' 15 minutes early to auto-breeze thru the artifacts gallery.  Lincoln's stovepipe hat.  Check, done.
Visited Lincoln's burial site at Oak Ridge Cemetery.  Arrived 15 minutes after close so settled for a self-guided tomb drive-by.  Hard to fit a full day-vacation into 4 hours.
Autobahn'd to Champaign-Urbana.  Another just-n-time arrival (8 minutes to spare) – University of Illinois, home of the Fighting Illini – for tomorrow's marathon bib pick-up.  Yikes, that as close.
Early to bed, early to rise.  100% chance of rain…it is what it is, my last 50 State weekend.  Tomorrow Illinois, Sunday Colorado 🙂