Woke to rain, finished in rain.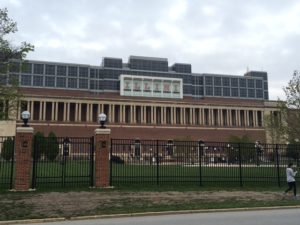 Hitched a ride to the University of Illinois, my Saturday morning marathon Start.  Cold drizzle; car camped 15 minutes from gun time.  Glad yesterday was 'Land of Lincoln' tourist day, 'cause today's forecast: 100% rain.  Grey day.
2 light runs earlier in the week – only non-swim or bike exercise since St. Louis.  Concerned 'bout the knee of course but not about the distance.  Despite the rain, mentally in a good place.  picture in my head – Bib #50 – Maniac friend Stacy picked up my Sunday marathon garb in Fort Collins & iPhoned an image.  It all suddenly got real.  Run, walk, crawl…whatever it takes, gonna finish state #49 today – 50 State finale lined up tomorrow morning.  I've run a double before.  I can do this.  Today, Champaign-Urbana.
except for a 4-loop Canal run in DC last November, this course would my 50 State flattest – only 85ft elevation change.  I'd be hard-pressed to post news 'bout any hills this day 🙂
illinoismarathon.com: "…run through crowd-filled neighborhoods and tree-lined parks, and finish on the 50-yard line of historic Memorial Stadium."
Yep, that's what happened.
Hung with the 4:30 pace group most day.  No pain 'til mile 20.  Left knee stiffened, IT band.  Hydrated at mile 21, walked a tenth-mile, dropped my pace to an easy jog.  Not winning any awards today – double marathon weekend, another 26.2 tomorrow.  Slow & steady.
Stadium finish – LOVE all stadium finishes – Fargo Dome [in North Dakota] still my fave, but today also mighty memorable.
CHRISTIE CLINIC ILLINOIS MARATHON Results

K R HAGA  LOUISVILLE/CO   1142             4:45:14
Post-marathon shower at U of I's gym ($5 well spent), located Stephen, then autobahn'd north to Chicago.  Heavy shower/downpour now – thankful I didn't have to drive, even more thankful I had already finished today's run 🙂
Chicago airport security, an hour half sentence managed by TSA rejects.  Slowest, laziness, most inefficient location in our nation.  Don't argue you're short-handed.  Tens of employees walking around sharing weekend plans with co-workers.  FOCUS!  Small talk doesn't keep us safe from terrorists.  Lives depend on you doing your job — every day.  Yep, every day.  Ask me how I really feel.  ARGH!
Touchdown in Denver just after 9.  2:30am's gonna come early.  Sharing a ride with Stacy at 3, catching a bus at 430.
50 State excitement is starting to build!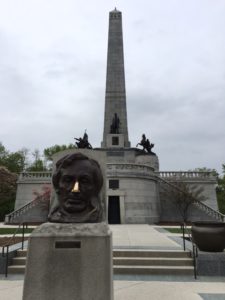 Takes 'bout as much strategy to finish 50 states in 3 years, as it does actual running.  States like Delaware, Rhode Island & Connecticut have only one or two marathon options a year.  ALSO – Spring (April) & Fall (October) are PRIME TIME…change of seasons sport multiple competing events.
Never expected #49 would happen in Illinois but this state provides a whole lotta running options.  With Chicago off my radar, registered for the Illinois Marathon in Champaign-Urbana. [not a fan of crowds, already ran one major: NYC]  Located only an hour-half east of Springfield, allowed me to visit the Land of Lincoln – place where our infamous 16th President started his family & political career.
Friday morning flight – met up with Stephen, who landed 15 minutes earlier from New Hampshire.  Rental car pick-up, lunch at a highway-exit Subway, 2pm in Springfield (Illinois' capital city).
Arrived just in time (4 minutes prior) for the ranger-guided Lincoln Home tour, watched 10 minutes of two National Park films, then drove to the Lincoln Presidential Museum another 10 minutes away.  This museum is a MUST – time-challenged, chose to visit 'Lincoln-White House Years' & caught both recommended movie events.
Stepped out of 'Pre-Presidential Lincoln' 15 minutes early to auto-breeze thru the artifacts gallery.  Lincoln's stovepipe hat.  Check, done.
Visited Lincoln's burial site at Oak Ridge Cemetery.  Arrived 15 minutes after close so settled for a self-guided tomb drive-by.  Hard to fit a full day-vacation into 4 hours.
Autobahn'd to Champaign-Urbana.  Another just-n-time arrival (8 minutes to spare) – University of Illinois, home of the Fighting Illini – for tomorrow's marathon bib pick-up.  Yikes, that as close.
Early to bed, early to rise.  100% chance of rain…it is what it is, my last 50 State weekend.  Tomorrow Illinois, Sunday Colorado 🙂
Kicked off my last dozen (a baker's dozen 13) in mid-September, start of my longest weekend stretch marathoning.  Beginning September 13th, I'd run 11 consecutive weekends – the last 10, all Eastern time zone…whole lotta travel for a guy with a full-time job.
Overnight train to Omaha, then rental car'd 2 hours to Sioux Falls.  Pre-race day spent at the Laura Ingalls Wilder Homestead – read the entire Little House series as a boy, what memories!  On the deserted state highway to De Smet, passed a field of corn where 'Into the Wild' was filmed.  my fave film — double WOW!  one week later – Holy Mountain Mama – marathon #38 in Morgantown WV would be my 50 State Hilliest marathon.  Rolling hills, pop ups, long steady grinders & steep mountain climbs…but all 26.2, some version of HILL.
Who gets excited 'bout Ohio?  That'd be everyone who wants to experience Old World Amish.  Race itself was hilly & the weather steady rain but…pre-race night at an Amish auction, unforgettable.  Horse & buggy, homespun clothes, pie.  Forever memory.
Shared the next four marathons with East Coast family & friends.  Raced 'round scenic Newfound Lake in Bristol NH, then shared post-race Italian with Stephen & Sheila.  Week following, marathoned downtown Hartford CT.  Weekend'd with family in Manchester, (literally) horsed around with CT bestie Dawn, then brunched by the (Long Island) Sound with friends Andrea, Betsey & Stephen.
Museums, 2 sports stadiums, best 50 State aquarium & the Inner Harbor highlighted my 42nd marathon in Baltimore.  Post-marathoned in Martinsburg WV, sharing dinner & laughs with my Aunt Joyce, cousins Regina & Kenny & their spouses.  LOVE LOVE family!
Kicked off Halloween week spooking on Cape Cod.  Creepiest marathon of my 50 – pre-race accommodations in the Lizzie Borden House.  Half-slept the night in the actual room where Lizzie axed her step-mom.  What was I thinking?!!
Foot raced the New York City Marathon – my only WORLD MAJOR – on November 1st.  Ran all 5 city boroughs: Staten Island, Brooklyn, Queens, the Bronx & Manhattan.  Finish Line: Central Park.  Pre-race? swanky Manhattan hotel, pricey restaurant eats & a Broadway show.  Go BIG or go home – no regrets life 🙂   Although not a state, how could I run all 50 yet miss our nation's Capitol?  Ran marathon #45 in Washington DC.  Urban-trail trek along the C&O Canal; 4 loops on a flat course, 15 minutes from the White House.
6 days later, travelled to NASCAR-friendly Charlotte, North Carolina.  Warm day, lotta hills, medic tent ending – wrapped/iced my Achilles before the flight home.  In-n-out in 25 hours – shortest time away of my 50.  Ended my 11 week marathon stretch in the City of Brotherly Love, Philadelphia.  2 things on my must-do: our nation's cracked Liberty Bell & Rocky (statue).  Crazy silly, yes – but it's a movie powerhouse & its theme song has rocked my playlist since Alaska.
Finished 2015 in Memphis.  Chose St Jude's 6 months before registration opened – 100% charity run, all funds support childhood cancer. Mile 18 to Finish, paced a guy running his first marathon.  Paid it forward, super rewarding.  Pre-race: Elvis' Graceland.
Started 2016 on HAWAII – our island state, far far away in the vast Pacific.  Most exotic of my 50; race started at 5am, but finished Hawaii's 'coldest' marathon at a humid 82 degrees (in January).  5 full days from home – snorkeled nearby Molokini, feasted a Hawaiian luau, crater hiked Haleakalā, dined aside the mighty waves of Pāʻia.
Thankful I've blogged my 50 State experience.  Such an amazing, diverse nation we share.  Super proud to be an American!
| | | | | | | |
| --- | --- | --- | --- | --- | --- | --- |
| # | State | Marathon | City | Date | Time | Bib # |
| 37 | SD | Sioux Falls Marathon | Sioux Falls | 9/13/2015 | 4:35.06 | 1002 |
| 38 | WV | Morgantown Marathon | Morgantown | 9/20/2015 | 4:14.39 | 118 |
| 39 | OH | Adams County Run with the Amish | West Union | 9/26/2015 | 4:26.53 | 1425 |
| 40 | NH | New Hampshire Marathon | Bristol | 10/3/2015 | 4:29.43 | 11 |
| 41 | CT | Hartford Marathon | Hartford | 10/10/2015 | 4:35.41 | 1062 |
| 42 | MD | Baltimore Marathon | Baltimore | 10/17/2015 | 4:37.28 | 1864 |
| 43 | MA | Cape Cod Marathon | Falmouth | 10/25/2015 | 4:40.29 | 281 |
| 44 | NY | New York City Marathon | New York | 11/1/2015 | 4:53.58 | 23145 |
| 45 | DC | C&O Canal Towpath Marathon | Washington | 11/8/2015 | 4:39:55 | 208 |
| 46 | NC | Thunder Road Marathon | Charlotte | 11/14/2015 | 4:27.51 | 418 |
| 47 | PA | Philadelphia Marathon | Philadelphia | 11/22/2015 | 4:32.53 | 4496 |
| 48 | TN | St. Jude Memphis Marathon | Memphis | 12/5/2015 | 4:44.56 | 2074 |
| 51 | HI | Maui Oceanfront Marathon | Lahaina | 1/17/2016 | 4:47:27 | 151 |