330am – woke early, left early, arrived early.  No civilian processing delays this day (better safe than sorry).  Parked, kicked the front seat back & caught extra zzz's.  Looking left & right of me, appeared many others had the same idea 🙂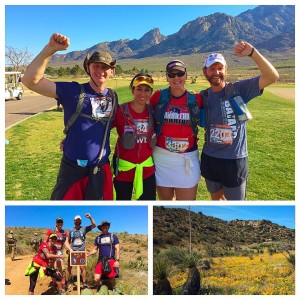 Somber, inspired remembrance before today's March.  Taps & roll call – only 3 lasting survivors returned a response.  National Anthem, a Black Hawk flyover followed.  Proud I chose this race, marching with our Armed Forces – proud to be an American.
Beautiful weather ALL day, temps never topped mid-70's.  Shed my double layer early.
Only 2 weeks ago, I trail ran in nearby Las Cruces – same desert, same scenic Organ Mountains.  LOVE LOVE this landscape.
No 50K trail adventure today; this Sunday we marched.  Marched with my Maniac buddy, Stacy & two Lincoln, Nebraska-natives, Laura & Dennis.  Laura's uncle helped design the course; Dennis is active (full-time) Air National Guard.  AMAZING inspiring people – I'm better in life, having spent 8 hours with these three.
Med tents, military ambulance, helicopter flyover, Jeeps…and a whole lotta camo.  Not coming from military, snapped lotta pics – kinda felt I was on the set of M.A.S.H.
Surprise Highlight: Mile 15 mess hall.  $5 bought a hamburger, hot dog, chips & Coke. No sub-4 finish today, LOL>   SAT & ATE – during a MARATHON.  Bataan's set the bar HIGH for all future races.  Burgers & dogs grilled to order – YUM!
Memorable End: Shook the hand of a Bataan survivor at mile 25.
After a day marching, felt I still had a lotta gas left in the tank.  Dennis & I said goodbye to the ladies & sprinted the remaining distance – clocking a 7:30 finish pace.  Awesome end to an amazing day.
Snapped finish pics (& ate again – LOL>)  Today we finished 4 STRONG.
Bataan Memorial Death March
White Sands Missile Range, NM
CIVILIAN Male
K R HAGA (Bib 2203)
from Louisville, Colorado
Finish
08:34:42.8
The Bataan Memorial Death March is a challenging march through the high desert terrain of White Sands Missile Range, conducted in honor of the heroic service members who defended the Philippine Islands during World War II, sacrificing their freedom, health and, in many cases, their very lives.

The race is open to all members of the public, though a significant portion of the participants are members of military units of the U.S. and foreign armed forces and their families.  Several surviving Bataan prisoners usually await the competitors to congratulate them on completing the grueling march. Many injured veterans including some amputees attend to march as well.
Bataan 2016 Start