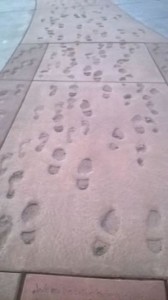 Road trip delay: woke Friday to heavy Spring SNOW – 7 inches…much more than the inch forecast.
Weekend bucket list destination: Bataan Memorial Death March on the White Sands Missile Range.
Sunday's marathon has been on my wish list for a year – signed up opening day.  More than a weekend 26.2 – this is a military March, replicating the WWII trek US & Philippine POWs took in 1942.
We honor these men; we remember their service.  3 remaining Bataan survivors would attend tomorrow's opening day ceremonies – including 98-year old Ben Skardon.
Invisible Symbols – The Ben Skardon Story
Started my journey mid-week, self-tutoring on everything Bataan via YouTube videos.  Unfortunately, much of WWII history studied in school is limited to Europe & Pearl Harbor.  Battles in Asia generally only receive a single paragraph in the best of textbooks.  My Grandfather served in the Pacific.
The Bataan Memorial Death March honors a special group of World War II heroes. These brave soldiers were responsible for the defense of the islands of Luzon, Corregidor and the harbor defense forts of the Philippines.

The conditions they encountered and the aftermath of the battle were unique. They fought in a malaria-infested region, surviving on half or quarter rations with little or no medical help. They fought with outdated equipment and virtually no air power.

On April 9, 1942, tens of thousands of American and Filipino soldiers were surrendered to Japanese forces.  The Americans were Army, Army Air Corps, Navy and Marines. Among those seized were members of the 200th Coast Artillery, New Mexico National Guard.

They were marched for days in the scorching heat through the Philippine jungles. Thousands died. Those who survived faced the hardships of a prisoner of war camp. Others were wounded or killed when unmarked ships transporting prisoners of war to Japan were sunk by U.S. air and naval forces.
they were beaten and starved as they marched.  Those who fell were bayoneted.  Some of those who fell were beheaded by Japanese officers who were practicing with their samurai swords from horseback.  The Japanese culture at that time reflected the view that any warrior who surrendered had no honor; thus was not to be treated like a human being.
To avoid Friday night metro traffic, didn't leave Boulder 'til 7 – overnight'd in Trinidad, 15 miles from the New Mexico border.
7am Saturday start – 6 hour drive remaining; boring all-highway trek.
Gas tank odometer bottomed ZERO 10 miles outside of Santa Fe.  Would have never fueled in tiny Eldorado had I not been desperate but rewarded heartily with homemade green chile chicken tamales.  surprise breakfast YUM – the gods were a smilin' 🙂
BIG weather change.
Freezing rain iced my windshield first 2 hours of New Mexico – but from there, high mountain desert.  Sunshiny skies, temps jacked up almost 50 degrees.  Shed my sweatshirt, opened the windows & took in desert – no stopping 'til the Mexico border.
Reached White Sands Missile Range 2pm.  Whole lotta folks arriving today.  Hour-half (long 90 minutes) to get processed.  Without a military ID 'speed pass', just gotta take it in stride.  Security of our bases is paramount – no argument here.
Parked, asked for directions.  Quickly jetted to the PDC (fast learned military folk only talk acronyms – LOL>), listened to two Bataan survivors recall their experiences.  It just got real.
Bib pick-up at Bldg 501, soaked in the atmosphere.  Crazy proud to be an American!
New Mexico Car Karaoke, 10-hour road trip