Run the Year Motto:  Run, Crawl, Walk, Conquer, Dominate 2,016 miles in 2016
March 2016 update:  another HUGE month – marathoned all 4 weekends of March.  Ticker: 7 consecutive race weekends (February start).  FAAANNTASTIC challenge!  Building CONSISTENCY & ENDURANCE in 2016.
Race ReCap:  one ultra & 4 marathons – including my first DOUBLE CHALLENGE, 2 marathons over 2 days in 2 different states.  Highlight: Bataan Memorial Death March on White Sands Missile Range NM.
Next month's focus: INTENSITY 
8 trail runs this year – BIG learning curve.  While increasing endurance (longer distance runs) AND switching road to trail, focus shifted from steady pace to survival (eating during a run, staying fit & uninjured).  Move back to road mid-April.  Speed work, INTENSITY, fearless DOWNHILL running.  Uphill I've got, I pull back Downhill.
Mileage ReCap:  Still on track, ended March at 500 miles (4 miles short of goal).
02-Apr  Rockin' K Trail Marathon   Ellsworth KS
10-Apr   Go! St Louis Marathon        St Louis MO
30-Apr  Illinois Marathon                Champaign-Urbana IL (State 49)
01-May Colorado Marathon              Fort Collins CO  (State 50)
Quick shower at the Cow Palace in Lamar.  2 hour drive 'cross the Oklahoma Panhandle, diner dinner in New Mexico.  Big thanks to my co-pilot Dave – talk about Sports Trivia…today I chauffeured the King.  Completely took my mind off the blowing snow.
Met up with Dave's friend, Cindy, another Colorado 50 Stater – unloaded, snapped a few pics, then diner dined at the Rabbit Ear Cafe (it was this or Pizza Hut – HA!)  Our small group of Dust Bowl runners were greeted by the local Chamber of Commerce – super nice – yep, we're kinda a big deal in Clayton.  Ya'll know that's how I roll.  LOL>
Head hit the pillow early – although tomorrow's marathon day…so was today 🙂
Doubled our drive time next morning – no more snow but woke to a quarter-inch of ice.  Inched down curvy canyon roads into Clayton Lake State Park, no drama…took it slow & easy.
18 degrees. Coldest start of my New Mexico marathons (3rd run this year).  Borrowed layers for the Start – had packed short-sleeves & shorts this day.
My legs woke slow – still stiff from Saturday's marathon…but my head was a go.  Cold temps, snow on the ground & SUNSHINE.  Days like this, I run with a perma-smile.
AND the view – WOW!  Take poor little Lamar Colorado & up the panorama 10x.  Course hugged scenic Lake Clayton.  Proudly collected 9 rubber bands today – 5 on my left arm, 4 on my right.
Only one small stretch on pavement…all coated in ice.  Down to a crawl, still landed on my backside. Luckily sensed it was happening & went down pretty graceful.
Received good advice from a fellow marathoner on running my first DOUBLE.  Took my first 2 laps at a slow 12-minute slog.  AND she was right!  6-7 miles in the day's run, my body DID adjust.  Warmed up, legs moving, did another 2 laps with Greg & Barbara, a couple from Ames Iowa…then picked up pace – goal to lap them by loop 7 or 8 & finish last lap(s) together.
Trail turned to sloppy thick mud in sections.  Not my first rodeo – jumped in both feet & tread thru the middle.  No real avoiding it…best to embrace & enjoy the experience.  Sunshine, antelope grazed nearby.  Temps topped 40, turned into a beautiful day.
Today was about the journey – and training my body to marathon multiple days.  3 miles to go, legs stiffened again, struggled with left knee pain.  Different from runner's wall – today wasn't mental, first time pushing my body 50+ miles over 2 days.  Walked the next mile with a lady from Vegas.  Karen, a cancer survivor, had lived a wild early life.  Awesome stories – good therapy, body & soul.
Greg & Barbara tagged me as I slipped on rubber band #9 – one short loop 'round the Dam to go.  No concern 'bout finish time so the 3 of us took a short detour to view the lake's infamous dinosaur tracks.  Far-out experience DURING a marathon 🙂
Marathon/ultra #59.  FINISHED an hour slower than yesterday's 26.2 urban-trail in Lamar – but no regrets.  My first ever DOUBLE – two marathons, two days, two different states.  FAAANNNTASTIC!
2016 Dust Bowl Day 5 – Full Marathon – March 27, 2016 – Clayton, NM
KR Haga   Louisville CO    06:06:15
free State Park shower (AWESOME), then schlepped 6 ½ hours home.  Weekend over?  Heck no – it's Easter.
Easter Sunday in March caught me by surprise (honestly, would have never scheduled a marathon run).  Barreled home to share holiday tradition with Ash & Tom – our 3rd Easter pilgrimage to Casa Alegre.  Mexican fiesta, olé!   LOL>
Happy Easter 2016!
The Dust Bowl, also known as the Dirty Thirties, was a period of severe dust storms that greatly damaged the ecology and agriculture of the US and Canadian prairies during the 1930s; severe drought and a failure to apply dryland farming methods to prevent wind erosion caused the phenomenon. The drought came in three waves, 1934, 1936, and 1939–40, but some regions of the high plains experienced drought conditions for as many as eight years.

prevailing winds blew away [dust] in huge clouds that sometimes blackened the sky. These choking billows of dust – named "black blizzards" or "black rollers" – traveled cross country…

The drought and erosion of the Dust Bowl affected 100,000,000 acres that centered on the panhandles of Texas and Oklahoma and touched adjacent sections of New Mexico, Colorado, and Kansas.
Set a lotta new running goals in 2016 – first ultra distance, first trail race…and this weekend, my first marathon Double.
Boulder⇨ Louisville⇨ Westminster⇨ Englewood.  Work, home, dog drop-off, commuter Park N Ride.  Picked up Dave [a fellow 50 Stater] Friday nite 7pm & highway'd west.  Hour-half to Limon (KS border), 2 hours south to Lamar – a super small town on the Plains (population 7,776), more reminiscent of Kansas than Colorado.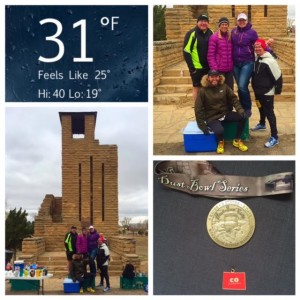 Tomorrow's marathon would be my 2nd Colorado 'training run'.  [Already selected the Colorado Marathon on May 1st to complete my 50 States Quest.]  January ran Cause & Effect Marathon in Brighton (Achilles Int'l charity race); registered tomorrow's run as a FREE entry thru Mainly Marathons, part of their 5-day Dust Bowl Series. Well…kinda free. Week later signed up for Sunday's 26.2 in Clayton, New Mexico.  LOL>
Good training for next month – when I run State 49 Saturday in Illinois, hop on a plane, then finish State 50 the following morning in Fort Collins 🙂
Hoteled 6 hours at the Cow Palace (yep, completely serious) – then landed 10 minutes away in Lamar's Willow Creek Park.  Bib pick-up & blueberry pancakes.  Game on!
Mainly Marathons trademark – FOOD.  You'll never go hungry on one of their runs!
Today's course: 14 laps on urban trail (dirt & gravel…but this ain't Moab – no mid-race rock climb required 🙂 ).  Have never run so many laps in my life – tough to stay focused repetitive looping.  Today we'd collect rubber bands – 13 bands, then one last loop to the Finish. Simple brilliant idea.  I proudly collectedly 7 on one arm, 6 on the other.
Felt STRONG this cold day, went out fast.  Held third, then slipped to 4th a lap later.  Been running desert 5 weeks straight.  I'm a cold weather runner, today my kinda day.
Temps dropped, wind blew & my pace slowed.  Four laps remaining, tagged a steady runner – Dan from Iowa.  Proudly declared 'Victory Lap' as I slipped on band 13, downed a handful of salty chips & hit trail, one last loop.
1.87 miles more.  Mentally STRONG – FINISHED marathon/ultra #58.
2016 Dust Bowl Series Day 4 – Full Marathon – March 26, 2016 – Lamar, CO
KR Haga Louisville CO    05:00:39
Quick shower at the Cow Palace.  SNOW blowing, 2 hour drive 'cross the Oklahoma Panhandle, diner dinner in New Mexico.
One down, one to go.  first marathon DOUBLE in sight – definitely gonna happen tomorrow!
the Dust Bowl, 1930's America