Nearly 1 foot of snow falls on Boulder, more expected through morning

The slow-moving winter storm that developed late Sunday had dropped nearly a foot of snow on Boulder by Monday night, with more accumulation expected overnight and Tuesday morning.

National Weather Service forecasters were calling for several inches of additional snow Monday night into Tuesday, with perhaps another inch after 6 a.m. Tuesday.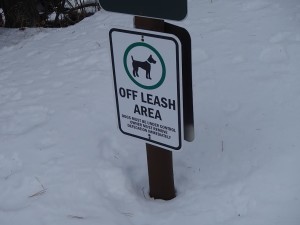 LOVE LOVE this time of year – brisk morning temps, pink sunrises…and SNOW.  Weather ya'll know is unpredictable – so a Monday/Tuesday storm, while pretty to watch, does not always mean will still be there for weekend play.  Colorado high-altitude sunshine burns snow off roads & west-facing trails within a day or 2 (luckily, ground cover stays deep).
Chose an easy hike in Lyons for Saturday – snow increases the difficulty factor.  Don't log in a lot of miles winter hiking…but the landscape/those views are SPECTACULAR.  Precip-free drive on 36 toward Estes, hung a left on Longmont Dam Road (County Road 80).  Popped the Jeep into 4WD.  LOVE LOVE having a vehicle alternative to the Prius 🙂
Relatively late hike start – quarter past 8 – but found ourselves alone this day.  Snow.
Leash-free hiking for Sno' Ro – good day to be dog.  Little guy does a good job of staying close on long hikes but always on wildlife alert, better if hiking with another dog.
Followed a plowed trail to the Ranger Station.  Unexpectedly easy hike to the dam.  Living in the middle of nowhere, new post-retirement goal: Park Ranger 🙂
The St Vrain gurgled from upstream reservoir release.  Sucked in high altitude air, wind bit at my cheeks, listened to the river.  Quiet.    Gotta do this more often, absolutely nothing better.
Deep snow proved a good deterrent for Ro.  Sinking to his neck, Ro loped back on trail, glanced behind (checking in on Dad), then greyhound-galloped ahead again.  All smiles.
Briefly stopped at Button Rock Dam, water exploding from Ray Price Reservoir into the St Vrain.  Thick winter ice formed 'round the pipe release – WOW!  Crazy beautiful.
Trudged thru waist-deep snow, switch-backing up remnants of the summer trail 'til we reached the top. Wind blew strong.  Little tree coverage overlooking the Reservoir, which traps snow melt for Longmont & Lyons local water supply.  Hugged half the reservoir lip before returning to logging roads, hoping to loop back to the trailhead.
Had earlier averted a herd of deer; Ro picked up their scent but didn't see them, deep snow further deterred his interest.  Hiking down from the Reservoir, 4 deer darted across the road & up the mountain face.  No stopping Ro – argh.  Thinking the rock face would hold back my pup, I didn't call him back 'til he had cleared 500ft+ in elevation.  Deer continued to climb.  Ro looked around – continue up, or listen to Dad & head down.
Overall – GREAT winter hike.  Highly recommended.
Sunday a.m. — Morning run, Ro's annual vet appointment (yeah, on a Sunday), church, then popped 2 previously prepped dips into the oven for today's Super Bowl gathering at Ash's house.  Wings, jalapeño poppers, man dip (chili, cream cheese, sharp cheddar) & chicken enchilada dip (whole lotta ingredients).
Two of past 3 years, Denver's made the Big Game.  Long, defensive haul — 24-10 victory for our Broncos.   SUPER BOWL 50 CHAMPIONS!
Button Rock Dam, Lyons