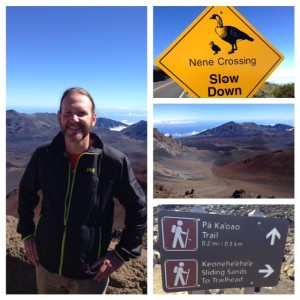 Last day — no surprise, hard to say goodbye.
Up early, showered, packed, keys on the counter, door locked behind me — aloha.  Aloha, hello & goodbye.  Goodbye Wailea, hello volcano hike 🙂
Ya'll know I'm a fan of our National Parks — and hiking, that's my first love.  Hit the highway & spent my last Hawaiian day in Haleakalā Nat'l Park.  We Americans are so blessed.  Whether it's Glacier, Yellowstone, Yosemite, the Rockies, Crater Lake, Pikes Peak, Mammoth Cave, Assateague Island, Grand Teton or Haleakalā — our nation's strength, its core, its inner beauty comes from the land…Atlantic to Pacific, we Americans are blessed. National Parks are our country's greatest gift to its citizens.  HUGE fan!
Renewed my annual pass at Park Headquarters, then started the climb to Haleakalā Visitor Center & Pu'u ula'ula Summit 10,023ft — high even by Colorado standards.
This dormant volcano last erupted 400 years ago.  Lava poured from Haleakalā & flowed south to the Pacific, just east of Makena.  I remember my hilly Day One run — landscape formed from this same massive explosion.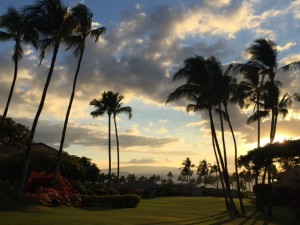 Aside from stunning views at each of the Park's three overlooks, I appreciated the dramatic temperature drop.  After 4 days of island humidity, mountain breeze & low 50's were a welcome relief 🙂
Summited Maui's high point, an easy .2 mile hike on Pā ka'oao Trail.  Whatta view! Haleakalā Crater was formed from wind erosion — not dome collapse like Crater Lake in Oregon.   Arid, desolate, wind swept sands.  The volcanic panorama was more reminiscent of Iceland than tropical Hawaii.
Spent so much time landscape gazing, left myself only an hour to hike from Keonehe'ehe'e (Sliding Sands) Trailhead.  Orange, reds, browns, taupe, auburn, pink, maize — not ONE colour of sand, but an intricate patchwork of WOW!
Clouds gathered (first rain all holiday).  Drove north shore, back to Pāʻia for one last mind imprint — dinner at Mama's Fish House.  [Excellent recommend, thanks Tina.]  Menu varies based on the day's fresh fish catch.  Yeah, FAAANN-FRICKIN'-TASTIC!
Mahalo, Hawaii — thanks for 5 unforgettable days; Wailea to Lahaina, Pāʻia to Hāna Bay, Molokini Crater to Haleakalā.
Mahalo, Hawaii.  No regrets, nothing left undone.