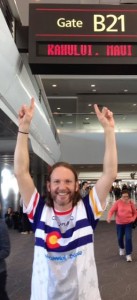 Backpack & running bag stuffed.  Gone for almost a week but packed light – shorts & swim trunks, heading to Hawaii.  Marathoning & a volcano hike top my itinerary – crazy excited!
DIA monitors decked in 'Bronco Orange & Blue' – classy, Denver…NFL home team support.
Direct flight, yes. 8 hour flight, ouch…that's a loooooong time to sit.
Sleep? Read? Heck no.  Watched 'Alien Sharks' as we flew over the Pacific – no land past California, only ocean for 5 consecutive hours. Tried to keep my mind alert…the more it wandered, the more I thought of downed flights over large bodies of water.  Must be an old-person thing…never remember being worried years ago when I lived in Russia & traveled trans-Atlantic quarterly for work.  LOL>
Landed in Maui – no issues, greeted with palm trees & humidity…in January.  FAAANNNTASTIC!
Car rental pick-up, condo check-in followed 45 minutes later in Wailea.  Opted for a non-hotel stay in Maui – liked the option of having a kitchen available for meals.  Highly recommended.
Quick belly fill in nearby Kihei; shut-eye came quickly.
Woke early Saturday to sunshine, bird calls & tropical coloured flowers – Aloha, Hawaii!  Unpacked my Newtons & a pair of shorts, stepped outside – ready for my first island run.  Plan A: don't get lost.  Ran south to Makena, where all man-made roads eventually dead-end in La Perouse Bay.  Lotta resorts, lotta golf courses, lotta money.
Morning sight-seeing goal: the Ocean.
Wailea Alanui to Makena Road, south on Makena Alanui, then back on Makena Road.  Hilly run along ancient lava fields.  Heat kicked up just past Big Beach in Makena State Park.  Got caught up in the scenery; forgot about Sunday's marathon.  What taper, huh?  10.2 miles is a lotta steps, day before a full marathon – yikes!  #onlyliveonce
Shower, $150 Foodland spend, late breakfast of fried eggs & POG (Hawaiian juice addiction), then a shoreline drive north to Lahaina – for bib pick-up & a proper sit-down lunch.  Hula pie at Kimo's did not disappoint 🙂
Afternoon plans: kickin' back, napping on the sand & beach time – then caught the Cardinals-Packers overtime finish.
Food, fun & football – good Day One.  5am start tomorrow, marathoning state #48.
Island FM KHEI 107.5