During my 11 consecutive weeks of marathoning last Fall, fell off track with regard to active training.  Between work, personal life & traveling East Coast 10 of those 11 weeks, struggled for consistency — pace dropped off, ran injured for 6 weeks.
2016 goal: ENJOY the run, ENJOY the journey, ENJOY whom I'm running with, look around/ENJOY my surroundings, REMEMBER how blessed I am – and CONSISTENCY.
Just before New Year's, signed up online for my 2016 running challenge – in addition to entering 40 marathons/ultras this year (only 3 east of the Mississippi 🙂 ), joined a new running community: Run the Year 2016.
Motto:  Run, Crawl, Walk, Conquer, Dominate 2,016 miles in 2016
Site is actually geared to new runners – folks wanting to lose weight, change/rebuild lifestyles…but 2,000 miles?  Jeez, seems like an impossible challenge.  But when you break it down over the entire year, it's only 5 ½ miles a day.  CONSISTENCY.  Awesome drawing inspiration from like-minded individuals all over the USA.  LOVE it!
January 31 at 7:05pm
double digit miles in light snow – great way to end January!  181.5 miles, 11 months to go — on track, still lotta room for improvement.
JOIN THE CHALLENGE

Run The Year

Imagine yourself doing something BIG in 2016.  Imagine yourself doing something that will get you into the best shape of your life.  Imagine making a New Years Resolution that lasts all year long.  Imagine taking a friend with you on a journey to health, happiness, and achievement.  This might sound impossible, but believe us when we say: "ANYBODY CAN DO IT!"

Welcome to Run The Year 2016 – 2,016 in 2016 Challenge presented by Run The Edge.  We're challenging you to run, walk, or crawl 2,016 miles in 2016.  We want you to use your feet to get you to the finish line.  Run The Year with us and an amazing community of like-minded people who will encourage you, celebrate your accomplishments, and (most importantly) keep you running and walking as you cover 2,016 miles in a single year.

Our goal is to make the Run The Year Challenge as motivating and fun as possible.  Run The Edge promises to pour our hearts and souls into making this challenge an exciting year long journey.  We're in it to help you make a goal and stick with it.  Are you ready to join us?

MILEAGE TRACKER
Run The Year registration gives you free access to a custom mileage tracker so you can log miles throughout the year. Track miles for yourself and for your team as you complete 2,016 miles!

INSPIRATION, MOTIVATION & EDUCATION ALL YEAR LONG
2,016 in 2016 registration gives you complete, year long access to the Aid Station, Training Room, Nutrition Bar, and Listening Lounge.  These curated areas will give you the tools necessary to achieve your 2016 goals.

TRAINING PLANS
Are you a walker that wants to complete your first 5k?  Are you a marathoner looking to improve your PR? Registration includes over $180 worth of free Run The Edge running training plans.
Just 2 years in Colorado — Ash is a homeowner, planning a Rocky Mtn wedding AND just scored a brief morning spot on local TV.
Crazy proud of this kid.  Thankfully did not inherit my self-promoter gene.  Ash's TV spot brings attention to a cause close to her heart — finding forever homes for homeless pups.  AMAZING lady, go Ash!
Ashton •  Ok so I probably don't have a career in news but the pups looked great!  Go to www.dalmatianrescue.org if you are interested in adopting!! — feeling relieved.
http://www.9news.com/story/life/pets/2016/01/27/2-foster-dogs-hoping-permanent-family/79392446/  (full version)
Dog Name: Mia
Age: 4; Color: White; Gender: Female
Current Location: Denver, CO
Listing Date: 1/10/16

Mia gets along great with the other dog in her foster home (about the same size). She's a little timid with larger dogs but has never shown any aggression. Her foster mom would firmly say she is not cat friendly, she definitely likes the "chase the kitty" game at her foster house. She LOVES playing with toys (tug of war and fetch are favorites). She loves to toss them in the air and lay on her back with them. She is very food motivated for tasty treats and is working on basic commands. She is a pro at "sit" and "down" and working on "paw". She walks on the leash well but would probably do better in a front-pulling harness because when she's on a walk it is her JOB. No time for stopping and sniffing. She has started going to open space in the morning to burn off some energy and she can FLY. She listens very well though and we haven't had a problem calling her back – just keeping her in hearing range 🙂 She loves to snuggle and just be by your side. Sleeps well through the night in her crate and is potty trained. Haven't tested her with kids because we don't have any but she's very people friendly.
UPDATE:  February 5 • Ashton • It was a little challenging with our kitty but Mia is moving to her forever home tonight!  That's a successful 2/2 challenging fosters.  So happy she will be a spoiled princess in her new family.  Makes it all worth it!
PetLine 9NEWS.com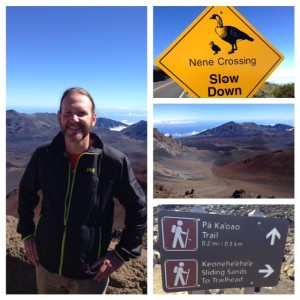 Last day — no surprise, hard to say goodbye.
Up early, showered, packed, keys on the counter, door locked behind me — aloha.  Aloha, hello & goodbye.  Goodbye Wailea, hello volcano hike 🙂
Ya'll know I'm a fan of our National Parks — and hiking, that's my first love.  Hit the highway & spent my last Hawaiian day in Haleakalā Nat'l Park.  We Americans are so blessed.  Whether it's Glacier, Yellowstone, Yosemite, the Rockies, Crater Lake, Pikes Peak, Mammoth Cave, Assateague Island, Grand Teton or Haleakalā — our nation's strength, its core, its inner beauty comes from the land…Atlantic to Pacific, we Americans are blessed. National Parks are our country's greatest gift to its citizens.  HUGE fan!
Renewed my annual pass at Park Headquarters, then started the climb to Haleakalā Visitor Center & Pu'u ula'ula Summit 10,023ft — high even by Colorado standards.
This dormant volcano last erupted 400 years ago.  Lava poured from Haleakalā & flowed south to the Pacific, just east of Makena.  I remember my hilly Day One run — landscape formed from this same massive explosion.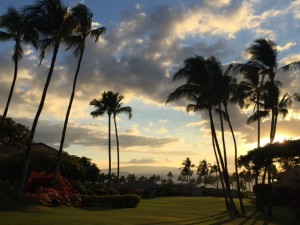 Aside from stunning views at each of the Park's three overlooks, I appreciated the dramatic temperature drop.  After 4 days of island humidity, mountain breeze & low 50's were a welcome relief 🙂
Summited Maui's high point, an easy .2 mile hike on Pā ka'oao Trail.  Whatta view! Haleakalā Crater was formed from wind erosion — not dome collapse like Crater Lake in Oregon.   Arid, desolate, wind swept sands.  The volcanic panorama was more reminiscent of Iceland than tropical Hawaii.
Spent so much time landscape gazing, left myself only an hour to hike from Keonehe'ehe'e (Sliding Sands) Trailhead.  Orange, reds, browns, taupe, auburn, pink, maize — not ONE colour of sand, but an intricate patchwork of WOW!
Clouds gathered (first rain all holiday).  Drove north shore, back to Pāʻia for one last mind imprint — dinner at Mama's Fish House.  [Excellent recommend, thanks Tina.]  Menu varies based on the day's fresh fish catch.  Yeah, FAAANN-FRICKIN'-TASTIC!
Mahalo, Hawaii — thanks for 5 unforgettable days; Wailea to Lahaina, Pāʻia to Hāna Bay, Molokini Crater to Haleakalā.
Mahalo, Hawaii.  No regrets, nothing left undone.