Good to have a play day at Graceland, but didn't lose sight of why I traveled to Memphis – St. Jude's.
Day prior, received my marathon tee from a young kid in a wheelchair – shirt stacked high behind him.  Another youth offered to help; he wanted none of that.  This was HIS assignment.  Wanna talk about a tear-up moment – this was it.
Walked thru the display of tomorrow's mile markers – 26 miles, 26 letters…each marker crafted by a child about their journey.
Mile 16 – P is for Possibilities. P = Pain, Puke, Pills, Patient.
Mile 21 – U is for the Five U's of Cancer. Unaware, Uncommon, Unexpected, Unforeseen, Unpredictable.
You wanna do something BIGGER than yourself, run St. Jude's.
today in Memphis, 2 boys fighting cancer handed me my race shirt & gear bag. Tomorrow I pledge to finish 26.2 miles with a smile on my face – no frown, no pics of swollen ankles, no finish line collapse.

"No child should die in the dawn of life"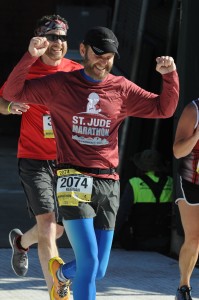 Marathon morning: walked from my downtown hotel to the Start, short mile away.  Whole lotta runners.  Many fund-raise half-year (St Jude Heroes) & choose this moment to run a distance these kids can't.
Mile 6 emotional overload – ran thru St. Jude's campus.  Young patients wrapped in blankets, sitting in wheelchairs, flanked by parents & siblings.  IMPOSSIBLE not to tear.  Walked a quarter-mile, mind preoccupied, sucked down water, focused on a young bald girl.  What these children & their families go thru, unimaginable.  Honestly, can't recall miles 9-14.  Wrecked.
Tagged an anonymous running buddy at mile 18 – similar pace, gait.  Stars-n-stripes headband, easy to identify if I slogged behind.  Military guy, St. Louis native, first marathon.  Hit the wall at mile 20 – so I chatted the guy up, took his mind off the current, talked 'bout his family…ticked off the miles.
Still remember the anonymous guy who paced me thru the Salt Lake Marathon, April 2014 – today I paid it forward 🙂  Kicked the last mile up & finished STRONG.
"FINAL OFFICIAL" RACE RESULTS
2015 ST. JUDE MEMPHIS MARATHON
SATURDAY DECEMBER 5, 2015
K R Haga   4:44:56   Louisville CO
Post-race: Lunched with Sis & family – place/time, complete luck.  St. Louis nephew was playing a regional soccer tournament – same day, only 20 minutes away.  Shared laughs & lasagna [my post-race go-to], then hitched a ride to the airport.  Thanks Sis!
jazzy Beale Street, Elvis, the kids of St Jude's, lunch with Sis – LOVIN' me some Memphis.  GREAT end to my 2015 50 State Quest: only Hawaii, Illinois & Colorado remain.  FAAANNNTASTIC!