I remember sitting at the kitchen table August 16th 1977 – in our camper.  It was afternoon, the radio playing.  Mom acted surprised, then sad when news broke that Elvis had died.  He was only 42.  I didn't understand the importance – but the memory's still there.
Waited a year to run my Tennessee marathon.  Knew last December, I wanted to race St. Jude's in Memphis.  Chance to raise funds for the cancer-stricken kids of St. Jude's; no-brainer – on my 50 State short list.  Registration opened June 1st; I signed up first day.
Late Thursday nite flight, Saturday race, Friday play day.  bluesy Beale Street, the iconic Peabody Hotel – check, check…but [to me] Memphis has always meant Graceland – home of Elvis.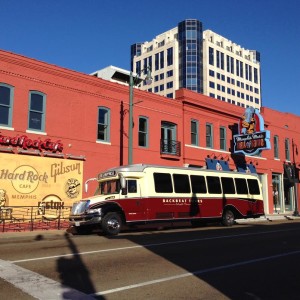 9am bus tour to Graceland.  Short drive, quick orientation, do's & don'ts – then received headphones & an iPad.  Paced myself thru a self-guided tour hosted by actor John Stamos.
Wasn't sure what to expect.  Honestly, Elvis was my parents' generation.
Inside, Graceland was decked for the holidays – white Christmas tree adorned with large red bulbs, poinsettias lined the grand staircase.
Visiting Graceland was like going back in time.  Boxy appliances, wood paneling, clunky recliners, shag carpeting – everything 1970's Americana.  Greens & mustard yellows.  Wet bars & water beds.  Like a strange, exotic mashup of Three's Company reruns & my grandparents' Taylorstown home.  Both retro & familiar.  LOVED LOVED it.
Past the stables to Elvis' home recording studio – now, a museum decked with awards & stage costumes.  Sat on the floor & watched clips from the King's 1975 concert in Hawaii.
Hooked, felt transported.
My parents were young again, my grandparents still alive.  Mom wore halter tops, laid in the sun for hours.  In my grandparents' basement, we watched Dark Shadows reruns on black-n-white TV to escape the summer heat.  We had a garden & a dog named Lady-Girl.  Backyard badminton, percolator coffee, Chinese checkers.  Croquet.
Walked thru Meditation Garden where Elvis is buried, along with his mother, father & grandmother.
WOW, whatta emotion evoking day.  Memory flood.
Much more than walking a dead singer's digs.  Looking back on my 50 States journey, I'll long remember Tennessee.
Elvis LIVE in Hawaii, 1975