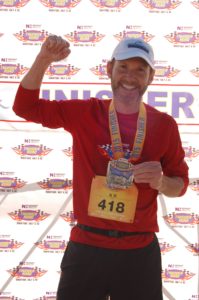 Advertised as North Carolina's toughest road race – was NOT the reason I chose Thunder Road as my NC marathon.  Selected NC's most economical place to fly, Charlotte.  Sometimes it comes down to $$.
Tenth week marathoning – would be my shortest time away.  In Friday afternoon, out 25 hours later.
Taxi'd uptown, bib pick-up, hotel check-in, NASCAR.  When in Charlotte, gotta visit the NASCAR Hall of Fame.  Redneck paradise.  [joking] actually kinda interesting.  History of car racing, followed by rows n rows of vintage cars – not so much – but the racing simulator…fun time, highly recommended.
Early to bed, early to rise.  Scored late hotel check-out.  Tomorrow's marathon goal: run fast enough to catch a shower before flying home 🙂  [this Fall's all-East Coast running theme]
Saturday, woke to sunshine & unseasonably warm temps.  Running in November, never know what you're gonna get (even in South).  On my way to the Start, walked past Bank of America Stadium – NFL home of the Carolina Panthers.  Nice digs.  This town loves their sports.
Start/finished at BB&T BallPark, Charlotte's triple A baseball stadium.  Again, nice digs.  Not a lotta marathon participants (< 1,000) especially for such a large city – but great crowd support.  Thanks Charlotte!  Hills seemed never ending but that's become 2016 standard – from Vermont & San Francisco to Ohio & West Virginia…I've seen a lotta hills this year.
Novant Health Thunder Road Marathon

Charlotte, NC    Nov 14, 2015  7:30AM

418  K R HAGA » Marathon » Louisville, CO » 04:27:51
Social Media Recap:  #46 in the books – only 5 states to go (PA TN HI IL & CO); beautiful weather, whole lotta hills, whole lotta music & great crowd support.  Go Charlotte, nicely done!  Ended in the medic tent, needed to ice the Achilles – 10 weeks of marathoning taking its toll.  Doc says keep it iced all week & should be fine for Philly next Sunday.  Cut more than 10 minutes off last week's finish time. Celebrating with French onion soup & oysters.  FAAAANNNTASTIC!
Next weekend: Philadelphia
One Response to Thunder Road Marathon, Charlotte