Another year to give thanks – grateful I lead such a blessed life.
Good health, great friends, amazing family & even more new life adventures.  Completed 30+ marathons in 30+ different states this year.  Marathon'd the deep South, Midwest, the Great Plains, Pacific West – then 10 weeks up & down the East Coast.  Biggest pre-race adventures?  orca whale watching in Washington's San Juan Islands (seaplaned from downtown Seattle), hiked Mt Hood & Crater Lake in Oregon, zip-lined at 8800ft in Angel Fire NM.  Saw soooo much FAMILY.  Whatta crazy FULL year!
Shared Thanksgiving Day feast with Ash & Tom in their new home in Westminster – along with Ro & Marty (our fur babies).  For this I'm most thankful.  To my Blog Family: God Bless & Happy Thanksgiving 2015!
After touring the city all day yesterday on foot – not to mention I ended last weekend's race in Charlotte, ankle wrapped in ice (Achilles injury) – didn't know what to expect today physically.  Mentally however woke STRONG & ready to run.
Hoteled downtown, only a mile from today's race start/finish (just past Rocky near the Philly Museum of Art).
Hilly course, lotta runners…super crowded field.  Windy weather, layered up, wore gloves entire race.  Philadelphia Mayor Nutter shook every Finisher's hand.  Super classy.  LOVE LOVE my Liberty Bell finishers medal.  Additionally, hotel allowed late check-out, so caught a shower before hurrying home for the short holiday work week.  Next weekend?  Nada.  Eat, sleep, repeat 🙂
Race Results

4496   K R HAGA   Louisville, CO   4:32:53

On behalf of Mayor Nutter, Race Director Desiree Peterkin-Bell and the entire GORE-TEX® Philadelphia Marathon Team – Thank you for joining us in Philly for Race Weekend 2015!
Social Media Recap:  Marathon 47 – done; 11 straight weeks marathoning – done; all East Coast states – marathon'd & done; windy November day in Philly, 2nd largest race field behind NYC, rolling hills but not West Virginia Appalachia hills – HA! – so much to be thankful for this holiday season. Bring on the turkey – Bubba's gonna eat this Thanksgiving 🙂 — at Philadelphia Marathon.
funny marathon story/embarrassing but true – near the start of the race, I saw a group of runners stretching.  Good idea, right? so I randomly join their pack & follow the leader's instructions.  Exercise over, leader asks us all to form a circle.  Ok, little weird but live & let live, right?  Folks bow their heads & start what I think is a prayer.  No harm in praying, right? but EVERYONE knows the chant.
God, grant me the serenity to accept the things I cannot change,

Courage to change the things I can,

And wisdom to know the difference.
Next, club announcements & congrats to individuals.  little awkward ⇨ super awkward: I really really shouldn't be here.  Yep, accidentally crashed an AA meeting half-hour before the start of my 47th marathon.  LOL>
11 consecutive weeks marathoning, honestly feeling a bit banged up.  Sunday's run in Philadelphia will be marathon #47.  Afterwards will get a one week reprieve, feast Thanksgiving with family, then finish out my 50 State calendar in Memphis at St. Jude's.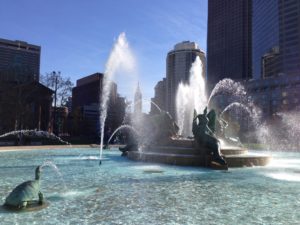 Hold on – whole lotta weekend happenin' before Sunday.  Super excited to tour Philly – in particular, hafta/gotta/wanna see the Liberty Bell AND iconic Rocky Balboa statue. HAHA – yep, it's true.  The original Rocky flic is an all-time Top 10, probably watch once a year.  Laugh if you will – but LOVE LOVE this film.
Flew out Friday (first snow of the season), hotel taxi'd post-midnight, 5 hours shut-eye – woke to sunshine.  Late November in Philly, couldn't have asked for better weather 🙂
Penn Center ⇨ Philadelphia Stock Exchange ⇨ Philadelphia City Hall ⇨ Declaration House ⇨ Independence Hall ⇨ Liberty Bell
Morning 2 mile jaunt down Market Street was like a walking tour of American Revolutionary history.  WOW, WOW, WOW!  Caught 20 minutes of two Park Service films…shame I didn't have more time.  Taxi'd to the Philadelphia Museum of Art, snapped a shot with Rocky – walked those iconic steps.  No words.
Washington Monument ⇨ Franklin Institute ⇨ Logan Circle ⇨ Cathedral Basilica ⇨ Philadelphia Convention Center
This 2 mile walk-about highlighted the best of Philadelphia – its beautiful monuments, fountains, manicured parks & cityscape.
Bib pick-up at the Convention Center (for next day's marathon), taxi'd back to my hotel (driver waited while I changed clothes), next stop: Walnut Street Theatre.  Talk about a crazy FULL day.  My friend Stephen had secured 2 tickets to 'A Christmas Story'.  AWESOME production, PERFECT kick-off to the upcoming holiday season (also appreciated sitting down a couple hours 🙂 ).
Founded in 1809, this National Historic Landmark theater is the nation's oldest playhouse. 
Post-show fine dining & a taxi ride home.  FAAANNNTASTIC Philadelphia day!
Running 26.2's gonna seem like a cake walk tomorrow – so much to see & do, LOVE LOVE this town!
Rocky theme song: 'Gonna Fly Now'