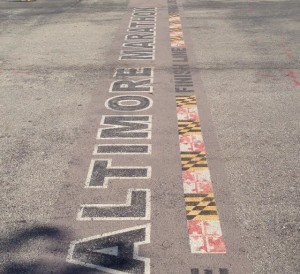 Cool morning; wrapped in Mylar, walked to Camden Yards – mile-half from my Baltimore Harbor Hotel but fastest way to reach today's marathon start.
8am start – only marathoners, halfers delayed 'til 9:45.  Was forewarned course would be hilly.  This year has been all 'bout running hills.  No fear today.
Easy, early – surprise run highlight: mile 3 thru Maryland zoo, 'keeper holding an African penguin.  Don't see that every day, super unexpected.
From Johns Hopkins, ran south 3 miles to Inner Harbor – retraced my pre-race Friday tour; passed the Nat'l Aquarium at mile 12.  Looped Bay Harbor Peninsula another three miles before pushing north on Washington to Clifton Park.
Flood of half-marathoners joined the course in Clifton Park.  Mixed emotions here – good not to feel course-abandoned late in the race (happens more than it should after 13 miles) – but honestly, there were just so many [runners].  Overwhelming.  After marathoning 20 miles, found myself side-stepping late-race walkers 4-across.
Lost mojo somewhere 'round Lake Montebello, slogged the next 2 miles.  No big time goal today – but wanted a hotel shower before hitting the highway early afternoon.
Saw pedestrian Eutaw Street ahead – and its red brick pavers – only a mile to the end.
Picked up pace, finishing marathon #42 in front of Ravens Stadium.  15 years of Charm – nice medal, celebrating the city's 15th marathon anniversary.  FAAANNNTASTIC!
Baltimore Running Festival  Oct 17, 2015

K R HAGA  Bib 1864

Marathon » Louisville, CO

Finished 04:37:28
Navigated thru an endless maze of people barricades but eventually located my rental in hotel parking; made my way 'cross Baltimore city traffic.  Maryland west to Frederick, dropping just south of Hagerstown on I-81 to Martinsburg WV.
Extracting my idle marathon-stiffened body from the car, suddenly felt twice my age.  30 minutes late – yikes – but luckily, dining with family tonite.  Hadn't seen cousins Regina & Kenny since Granddad's funeral, Summer 2014.
Happy Birthday Aunt Joyce!  Many thanks for sharing YOUR day & coordinating everyone's comings & goings.
As we grow older, seems only weddings & funerals bring extended family together.  Super appreciative of every opportunity to see kin.  Reminder of who we are, from where we come.  Beard, hippie hair – family love you, no matter what.
Have always carried a strong sense of family.  Grandparents belief-stamped this trait; parents drug us multiple summers to visit cousins, aunts & uncles – developing [family] bonds, despite growing up geographically far from one another.
Forever appreciative, full heart  🙂