Best way to celebrate Colorado Day?  Outdoors of course 🙂
On August 1, 1876, president Ulysses S. Grant signed a proclamation admitting Colorado as a state. Colorado Day was celebrated as a state holiday on August 1 for many years, and then was moved to the first Monday in August.  The day no longer became a public holiday, but rather an observance, when the state started observing Martin Luther King Jr. Day as a public holiday in 1985.
Started the day with an early hour-half drive to Estes Park.  Rocky Mountain Half Marathon, my first Half in 18 months.  6am Gun time – something special about racing pre-dawn, settling into pace, then experience sunrise.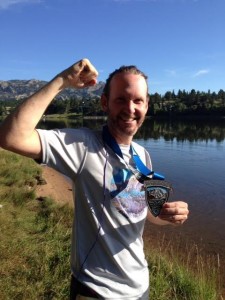 Circled Estes Lake. Mile 2 jammed up on the running path – lotta runners, maybe 2 across possible.  Picked up pace & caught the 1:50 racers.
Mile 4 thru 8 – UP.  Elevation AND incline – but no negativity this day.  I dug in, held pace & picked off tens of runners walking the last mile up.
Miles 9, 10 & 11 – big smile.   Ripped DOWN (rare for me, generally I pull up, hold back).
UP again at mile 12 to the Stanley, then finished flat to the Fairgrounds. (Kinda weird ending – passed a '3' which we all assumed was mile 13…but that happened another half mile later, then the final tenth mile was actually .3 miles.  Not a deal breaker but I went out fast, far too early.)
Good day.  13.1 miles, half the distance – nice to have some gas left in the tank.
Hills & altitude – my new favourite combo.  Finding hills to be an age equalizer.
Bib       Name              City                              Chip Time       Division Place
327      K R Haga        Louisville CO              1:52:21             6
Rocky Mountain Nat'l Park – Planned to re-hike Black Lake, hadn't been in 3 years (2012 challenge: 52 weeks, 52 hikes).  9am in the Park but couldn't find parking, even RMNP's Park N Ride advised to come back at 2pm.  Seriously?  (Easy to get frustrated with summer tourist season but learning to share the love.  National Parks are OUR parks as Americans – all Americans, no discrimination.)
Snuck the Prius in Moraine Park campground & hiked the extra mile to Cub Lake trailhead.  Not a lotta trees in the meadow (Fern Lake fire burned most in 2012).  Temps soon soared near 90, warm day.  Last mile forested, blanketed in wildflowers 🙂
Cub Lake – pulled off my shoes & soaked.  Lily pads, 2 ducks, dragonflies, small blue fish.  Nibble, nibble, BITE.  Hey, that's no fish – pulled off a blood-sucking leech attached to my foot.  'Nough soaking, hiked back – 4.6 miles total.
½ marathon run followed by a Nat'l Park hike.  Colorado Day done?  Nope, not yet.
Colorado Shakespeare Festival (Boulder) – 8pm curtain time, biggest concern was sleep deprivation.  Half-moon outdoor arena, center aisle seat, Flatirons sunset, temps in the low 70's – yep, pretty much PERFECT.
From the opening dialogue, was hooked.
Iago couldn't have been more sinister, nor Othello more tormented.  Acting from these 2 overshadowed all other players.  Othello a North African Moor, interracial marriage – and Iago's sheer cunning to drive noble Othello mad.
NOT the Shakespeare of my youth.  Far exceeded all expectations – I'll be back next summer.  FAANNN-frickin-TASTIC!
Colorado Day, day after?  Sleep 🙂