Kicked in the weekend with an early group run 'round Boulder Rez in North Boulder – a 'sweet 16er'.
Held sub-8 pace for 10+ miles, then slogged the hills. Group said their goodbyes at mile 13; soloed the remaining 3 at 'old man pace'. Need to find an 8:30/9-minute pace group – the young guns are killin' me.  That's all.
2 hour nap, pasta carb loaded – reenergized…hiking tomorrow.
Woke late Sunday (7am), made sleep a priority before hitting the highway. Easy hour half drive – I-70 to Idaho Springs Exit 238, today's hike destination: 13er James Peak.
[in Colorado] 13ers are often treated like the ugly step-sister…only 14er climbs rank a water-cooler boast.  Today's elevation gain?  4000ft – thousand feet more gain than 14er Bierstadt (my one-day PR: 7800ft, Barr Trail to Pikes Peak in 2012).
Parked at St. Marys Glacier, outside of Alice.  Watched local snowboarders pitch up the impromptu 'slope'…only in Colorado, right? 🙂
Glacier crossed tethered to Ro, then hiked 2 miles across colourful arid landscape: bushy willow thickets yellowed by cool evening temps, late season wildflowers, orange-hued moss – spectacular pallet of early autumn colour.
Beautiful weather: sunshine, temps in the low 50's, lotta wind.
Followed the CDT (Continental Divide Trail), bushwhacked briefly, then connected with the well-defined trail up James & neighboring Mount Bancroft.  Hiked this peak in 2012 – bushwhacked that year too.  Consistent I guess 🙁
Wildlife count: marmot, pika & a flock of summer-camouflaged ptarmigan.  These birds will go 'winter white' over the next 2 months.
Stayed right of the canyon gulch between Bancroft & James at 12,000ft (whatta view) – then pushed UP the remaining 1000 feet over a maze of switchbacks.  SUMMIT SUCCESS!  Kicked back on a rock shelter & let Ro hunt pika before snapping Peak pics.
One last weekend before fall marathon season.  Running my hometown 10-miler Saturday morning, Louisville's Coal Creek Crossing – then 3 hours of highway to Leadville.  Hike goal: Mount Massive, 3rd highest peak in the continental U.S.  Why?  'Cause it's there.
Weekend Highs & Lows 
13er James Peak – 10 mile hike PLUS glacier snow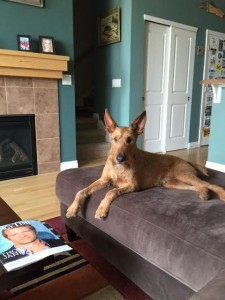 Finally a day set aside for man's best friend!
Ro, Sno' Ro, Rowan O' Roark, Rolo Cup — I love ya to the moon & back 🙂
National Dog Day serves to help galvanize the public to recognize the number of dogs that need to be rescued each year, and acknowledges family dogs and dogs that work selflessly each day to save lives, keep us safe and bring comfort. Dogs put their lives on the line every day – for their law enforcement partner, for their blind companion, for a child who is disabled, for our freedom and safety by detecting bombs and drugs and pulling victims of tragedy from wreckage.

"Millions of dogs are killed each year because they're simply unwanted, says Colleen Paige, founder of National Dog Day. They're unwanted because no one realized how to properly care for the demands of the breed. They're unwanted because they were bought as a Christmas gift for a child that didn't keep their promises about caring for the dog…unwanted because they shed too much…unwanted because they bark too much. UNWANTED…simply because someone changed their mind. All a dog wants to do is love and protect you. That's all. Dogs are amazing, courageous, sensitive and sentient beings that deserve compassion and respect. Please consider bringing what was once considered "unwanted love", into your heart and home on National Dog Day!"

National Dog Day can be marked as many a dog's birthday for those rescued on the day and for all of them it will be akin to a "K9- 4th of July!" Even citizens who are not dog owners will be encouraged to donate $5 to their local shelter on National Dog Day.
Last year set the template for all future birthdays — National Park visit, local hike & dessert 🙂
birthday month Nat'l Park visit: Crater Lake National Park.  Check.
trail ran 10+ miles at White Ranch Open Space in Golden, 2 loops of hike & hills in summer heat.  Check.
took advantage of Ash & Tom's grilling skillz — chicken, grilled peaches & corn on the cob Friday; rib eye steak Saturday.  Top that with homemade birthday cake: lemon curd, cream cheese icing, adorned with candied lemons.  FAAANNNTASTIC!
Kicked off Birthday Week 2015 with dinner theatre in Boulder, front row table to Mary Poppins.  Super fun Thursday, Chim-chimney!
Ended Birthday week at the Shambhala Mountain Center, an hour west of Fort Collins.  Quiet, peaceful alone time, deep in the Colorado Rockies.  Good place to reflect — where I am, where I've been, where I'm going.
excerpt from buddhism & gnomes, October 2013

Don't expect this to be a popular viewpoint, but I believe my God loves all his people & works through a series of faiths/religions to develop & activate our spirituality. HUGE fan of prayer & meditation.

I'm not a follower of Happy Buddha [I'm Christian], so why go?  I challenge you to put your mind in the right place – push out judgment & preconceived ideas – get quiet, close your eyes, breathe, pray/meditate.
Diggin' birthday month — lookin' forward to 2016 🙂