5 days ago, ran/walked/crawled my worst marathon in Casper Wyoming.
Mentally re-grouped, today Seattle bound.  Surprising long 3-hour flight, greeted by Washington state's towering Mount Rainier.  double WOW!  [Someday I'll bag this peak – on my bucket list 🙂 ]
Struggled initially with public transport (no rental car this trip), but eventually made my way to the NFL Seahawks' CenturyLink Field (for bib pick-up).  After the Broncos' humiliating 2014 Super Bowl loss, couldn't imagine souvenir shopping.  HOWEVER, pleasantly surprised to see Seattle's Sounders share store space with the Seahawks.  One of MLS' premier soccer teams – dropped 20 & scored a new beanie.
Hooked up with Ash & Tom (arrived a day earlier), toured the city via harbor cruise – SUPER fun – then ended the day at Seattle's infamous fish-tossing Public Market.
Crazy hippie vibe in Seattle, sport a unique accent (Alaskan/Canadian tinge) – and is a city of hills.  Folks warned 'bout San Francisco being hilly…no such disclaimer for the Emerald City.  Yikes!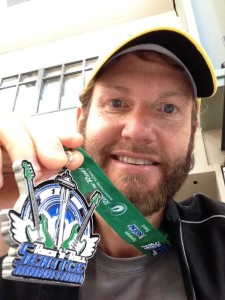 Woke early Saturday, 6am monorail to Seattle Center – caught my first close-up of the Space Needle. Would have to wait post-marathon for a ride UP 🙂  Hung out nearby in the Armory with a thousand new friends, awaiting an 8am start.
Corral start: lotta people, lotta corrals – BIG crowd, majority half-marathoners (combined start).  Only my 2nd Rock n Roll event, Las Vegas RnR was HUGE — 44,000 participants.
Almost 10 minutes before I actually crossed the Start Line – but from there, a different attitude. Sunshine, cool temps – maybe Seattle's hippie vibe – whatever the reason, this was not Casper.
Separated from the halfers early & worked our way south to Seward Park.  GREEN.  Biggest difference from Colorado, everything's leafy, lush & GREEN here.
Crossed the mile-long expansion bridge to Mercer Island at mile 18; struggled with strong crosswinds [on the bridge] but reenergized to music blasting in the tunnel before mile 19 (& mile 22).
Paced sub-4 until the mile 23 bridge return to Seattle.  Hills – bring 'em on.  I eat hills for breakfast.
Casper Marathon, I derailed/everything fell apart – mental, physical, top 10 worst.  Today approaching Seattle's Space Needle, I felt STRONG.  Love this city.  SUCCESS: state #32 marathon FINISH.
Next stop (WaMu Theatre), Jurassic World premier – my post-marathon movie treat in 3D.
Rock 'n' Roll Seattle Marathon
June 13, 2015
Bib        Name           City, State              Time
8057   K R Haga   Louisville, CO   4:15:26