Look what just came in the mail – my Little Rock Marathon medal. It's HUGE & I LOVE it!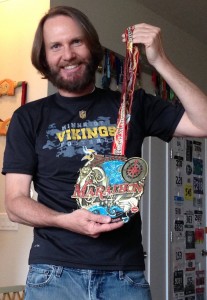 Leslie   Wow is right
Stacy   I've reminded Daniel we've got to make sure we put the medal rack on good studs – that one alone will pull down the wall!
Collette   Yay!!! Very cool!
Anish   this is a hoarding…
Arun   That's cool
Beth   Very nice and different! I like it!
Toni   Why did they have to mail it to you? Was it to big to carry on? Lol!
Shelly N Jason   Right ! That thing weighs a ton
Tara   That's AWESOME!
Brett  Also, nice shirt! SKOL Vikings!
Michael   Why are you getting a finisher medal in the mail, did they run out?
Jana   The LR medals got caught up in the dock workers strike on the CA coast, so they weren't delivered by race day! Poor race organizers had to mail these huge, heavy things out to all of us!!
Rose   I like!!! That would definitely pull my metals rack off the wall!
Tiki   I love it! I'm running this race next year for the bling! Lol
2 Responses to LR Pirate booty