Hadn't 26 2'd in 5 weeks (even in training), so doubt creeps into the mind before that first long run.  Focused on hill training in December until I caught a bug on the 23rd, laid me up through New Year's.  Not fun.
New year, new goals, lotta adrenaline.
Spell it: M-I-S-S, I-S-S, I-P-P-I   Weather: Sunshine & 26 degrees.  FAAANNNNTASTIC!
Arrived in a disposable thermal wrap (recycled from last month's race) & enjoyed a bluesy guitar National Anthem before race start. Mississippi Blues Marathon in Jackson MS – marathon #18, first of 2015.
Overheard this run was a bit hilly, so pleasantly surprised to be pacing strong on the initial 3 mile loop.  Kept tight with the 3:50 pace group, hill after hill after hill after hill.  Yeah, the hills just kept coming.  Mile 4, 6, 10, 12, 15, 17, 18, 20, 21, 23 & 25.
Lost pace on the steep climb up mighty mile 17…but I never walked.
Grabbed water at mile 26 & saw a pace sign.  4:30, maybe 4:15 – heck no…it was the 4 hour pace guy.  My hilliest race to date & I might sub-4?  Seriously?  Pulled it together, ran & ran hard.  Only .2 miles to go.
Pacers always finish at or before their target time.  Sadly today, this pacer had a 'fail' I guess.
Crossed the Finish, missed sub-4 by 2 minutes.  Hadn't entered Mississippi Blues with sub-4 in mind – even before I ran its many many hills – missing by 2 minutes only stung a little.  Not a fan of weekly hill training but I'm a HUGE fan of results.
Excellent way to kick off 2015 AND scored my favourite medal to date – depicting a Mississippi blues guitar.
Bib 656  K R HAGA Marathon » Louisville, CO Finished  04:02:22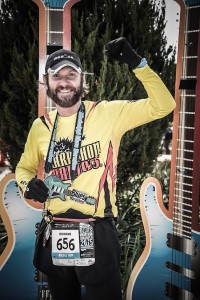 Blues harmonica jam