Was invited to attend a Christmas candle lighting service at flatironschurch on Saturday in Lafayette.  A stranger a row in front turned and lit my candle.  I stood like a goof for 10 seconds 'til I spread my light to 2 strangers a row behind me.  What seemed only moments later, more than a thousand candles lit this building.  The church leader asked us to lift our candles, look around & remember 'you are not alone'.  It was a simple, yet very moving expression of faith.
Holiday season can be a tough time.  If not surrounded by family, young children & significant others during the holidays – easy to feel out-of-step with the rest of the Christmas crowd.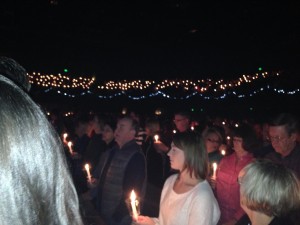 Luckily I'm insulated with a tight friend base.  Friends are family we choose for ourselves.
That said, family – blood relatives we clan with as youngsters are vital to how we're wired. No matter your faith, you gotta think 'what connects us by clan' is omnipotently directed…that it's more than random procreation.
None of my siblings climb mountains or live in my time zone – however, when together we share a unique connection.
During this holiday season, reach out & connect with family.  It's not always easy – family members say & do hurtful things we would never allow friends.
I sincerely believe we are part of a bigger plan.  Focus on this day, on tomorrow, on the day following tomorrow — leave yesterday in the past.  This holiday season don't just give, for-give.
Merry Christmas & God Bless. 
(favourite clip from The Color Purple)
2 Responses to Merry Christmas & God Bless