Inspiration & motivation – key to maintaining consistency & keeping my head in the game.
Much easier to drop off & miss a run (or 2 or 3) than to stick it day after day.  I've got my go-to guy – endurance runner Kilian Jornet…but when looking to consistency, gotta look to the ladies.
Tammy, Monumental Marathon
We all have friends who FitBit every daily workout on FaceBook.  Run mileage, cross fit WODs, maps of their neighborhood treks – annoying, huh?  Day in, day out – Tammy's 4.3 mile run, some impossible rope climb, pics with the weekend run group, race photos.
Somewhere in the process however, I got over being annoyed, set a goal & joined a gym.  If ever asked why I started marathoning – it was Tammy.  Ran our first full together this November…my 14th marathon, 2nd sub-4 & a new PR.  Ice in my veins – thanks sis!
Had just seen the 26 mile marker up ahead. At this point, I was running 5:1 intervals and knew I was so close. Time to pick up the pace and look strong coming in.
This was when I saw that beautiful finish banner. I knew it was in the bag! I was so relieved. Was just trying to hold it together so I'd have a good picture and not embarrass myself. This is what 7 months of hard training looks like. Goal achieved. FINALLY.
Stacy, Marathon Maniacs
Briefly met Stacy after finishing marathon #11 in Scottsbluff NE.  Admiration grew as I followed her journey on social media.  Shared a Southwest flight to Tulsa last month (Route 66 Marathon), then 2 weeks later randomly bumped into Stacy [at DIA] while returning from Delaware (Stacy raced in San Antonio).  Great life spirit.  This lady keeps me inspired – & organized.
Thanks to Stacy my 2015 marathon calendar is set – 26 new states on the horizon.  We next collide in Miami.
To anyone out there – find your passion, your dream, your goal, and GO ALL IN!  Whether you want to run a mile, or take an art class, or bake the best chili at the county fair – do what makes you happy and LIVE YOUR LIFE. Surround yourself by those who do what you want to do.  They were once beginners as well.  To anyone hesitant of taking a leap into the unknown, just ask yourself: "How bad do you want it?"
Running to Alaska: Stacy Bolyard (full article)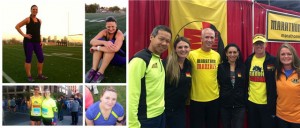 Sally, Western States 100
The obvious connection here is running.  The inspiration is endurance running – where I see myself in another 2 years.  Sally's video 'Western Time' is more than a gal & a lotta miles.  Hooked on her personal journey & ambition to compete/complete/finish Top 10 in Western States (100 Mile endurance run).  Super INSPIRED!
Sue, Life Below Zero
Been addicted to NatGeo's Life Below Zero all season – & Sue Aikens is the primary reason.  Each 'Life' individual adds something unique to the show's success – but it's Sue's no nonsense, no excuse, straight talk that shines.  Personally [I'm] a bit too pollyanna – too rah rah & upbeat – so I appreciate Sue's contrast.  NatGeo doesn't gloss over that strong personality.  An entrepreneur working in the Arctic Circle (operates fueling station, Kavik River Camp), this lady subsistence hunts &'s a thinker.  Tough chick; I'm a FAN.
http://channel.nationalgeographic.com/channel/life-below-zero/articles/sue-aikens/
One Response to ordinary women doing extraordinary things